Former Trinibad artiste Jovi Ton is our living walking testimony that when God calls you to do his work, you just have to trust him to make it all work out. Jovi Ton gave up singing dancehall music and is now focused on singing songs of praise and worship. He solidified this commitment with this collaboration with renowned  Gospel artiste and entrepreneur Jaron "Uncommon" Nurse founder of Jesus Youth Apparel in the very inspiring song entitled switch it up.
We're super happy for you Jovi and super proud of this step in a new direction.
This refreshing burst of positive music was written by Jovi and Jaron, produced mix and mastered by Shaka Pro and was directed by Brucie Bruce. Premiered on the 13th of May 21, this song has already surpassed 36 thousand views with over 4 thousand likes.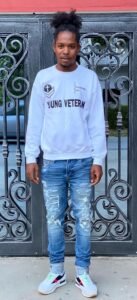 The video shows Jovi and Jaron enter in full white apparel looking almost angelic, signifying and representing purity and cleanliness! It really set the tone for the video!
Check out the preview below
As you can see in the clip above, the song is filled with so much positive messages. For those of you doing God's works, do not give up or stop what you're doing even if you're not getting the results compared to those who are not doing the same as you. Jovi Ton even shared with us what we believe has to be one of the most painful things for him to endure which was the loss of his brother, Kyle George, aka the great Rebel Sixx. But what we observed more than that is that his prayers for the Trinibad  movement and protection of their artistes goes much deeper that his personal pains.
As many people are aware, there has been a great divide with two camps as we like to call them, namely ztekk and sixx prior to the passing of Rebel, this only got worse after his death. We also know that Brad, who was part of the ztekk camp, was murdered earlier this year. (We want to take this opportunity to say condolences to both families of these young legends). What stood out to us and what we absolutely love, is how in this video, even though he highlighted Rebel's tragic death, we love how he included clips of Brad from his Born Bad video as well. We think this act is so symbolic as it shows the bigger picture of the situation, and that is that two brilliant lives were lost in an unfortunate manner which was truly a tragedy. And that is the main point.
Furthermore, he then went on to pray for the artistes stating he don't want no more life lose, and Jovi, we stand in solidarity with you on this prayer. We pray for no more deaths of anyone regardless of the camp you represent.
In conclusion, we have to say that we absolutely love this song, the messages, the quality. Check out the full vid here:
Blessings! Big Up!