Have you ever heard of Squid the Entertainer? For those of you who are not familiar, he is not some famous cephalopoda in the ocean performing for his fellow underwater friends but rather he is one of the most entertaining humans you will ever meet if ever you are fortunate enough to interact with him.
Born on the 27th of October 1988 (Scorpio) Squid hails from the community of Diego Martin ("West Side" Tupac Voice) and has a real love for entertaining. But before we go forward, did you ever wonder why he has such a unique name? I mean a Squid is the thing in the ocean with the long flexible tentacles thingy right!?
Then why would someone call themselves that?
Well if you answered yes in your mind to that question that means you have never seen Squid dancing and I have to say, that's pretty disappointing. But no worries, let's give you some of this amazing action and I'm sure you'll understand the name after.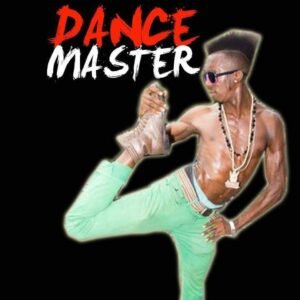 If ever you want to meet a jack of all trades and a master of them as well then Squid is your guy. Apart from being an amazing dancer, he is also a singer, host, mc, entertainer, brand ambassador and even a martial arts specialist.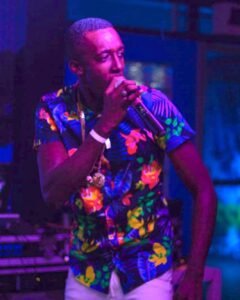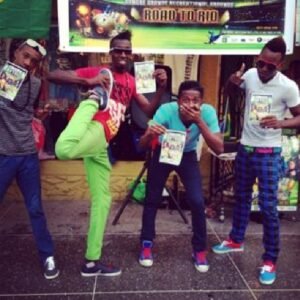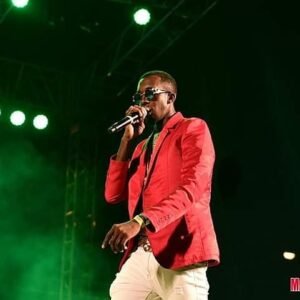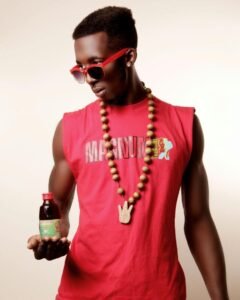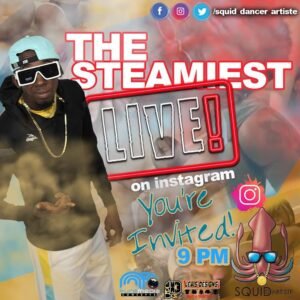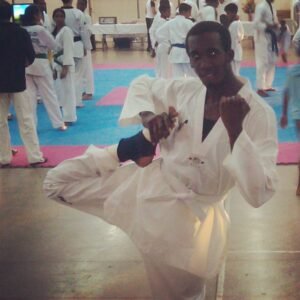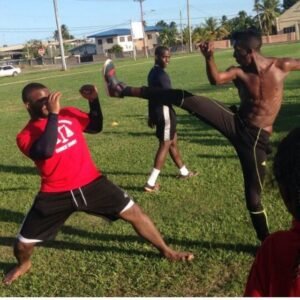 Oh you thought I was done?? No I was just catching my breath. He is also a skilled electrician and serial entrepreneur and if that doesn't impress you then I hate to be the one to break it to you but even though you can read this article, you may have a hint of blindness because anyone with good vision, even the ones with not so good vision can see how absolutely amazing and inspiring Squid is.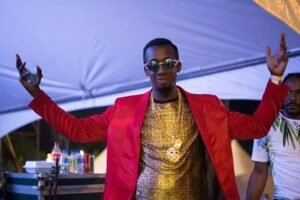 He is a strong minded person and for any of us who knows what it's like to defy the odds or bring a dream to life you would know that whatever the mind conceives it can achieve! He recalled not being in a financial position to purchase clothes as he would've liked when he just started out his journey, but that was a minor issue for this craftsman as he found a quick solution. Ladies and gentlemen I kid you not, Squid became his own tailor! (Tailor gang! Wiz Khalifa voice) that's right! I vote to name him captain of the no excuses club! He started sewing his own jackets; he even has a famous red jacket that we're sure to him is just as great as Michael Jackson's own.
This isn't the jacket he did himself but get an idea of how he looks in red!
What we gathered from our interactions with him is that he is not one to withhold knowledge and has a true passion for helping others. Do you know what kind of profession someone goes into if they want to help others learn? I know you said teacher of course because you are a genius, and you're right! As any selfless person would do Squid became a teacher and for a while he taught dance in long circular gym.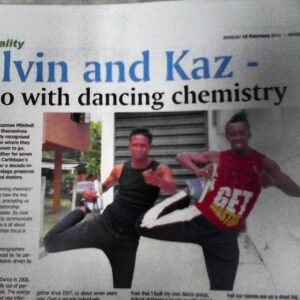 Notwithstanding this, we were fortunate enough to learn about the entertainer's former National representation as he used to be an athlete for sweet T&T at one point. One thing that remains clear is that you never forget your training, because to this day Squid claims even though he doesn't run for the country anymore, he is still very active in running, only this time it's his mouth!! LOL (when I tell y'all I was weak when he said that lmao)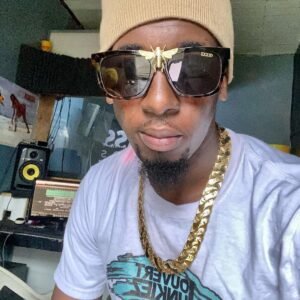 Delving into the entertainers' history, we were curious to know if there was a defining moment for him when he realized he was born to bring joy into the lives of people through entertaining, to which he responded there was no one moment of truth.  He always liked the entertainment industry, and what started off as one thing evolved into several other ventures. He recalled that whilst listening to music from others he began to critique them, and thought he should do it. I mean come on, there's even an old saying about that, you know the one that goes something like if you want something done right do it yourself? Yeah, sometimes that's a solution. He became adamant with his self -talk and with conviction he went on to venture in the realm of singing.
And all we have to say is AAAHHHH KILLLAAA!!!!!! (Round of applause to this bad singer artsite vybz man here nah!!) .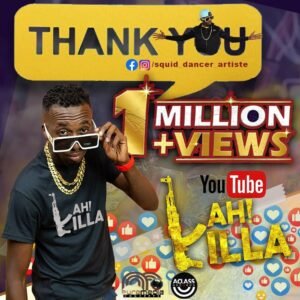 Squid now believes he has the total package. He is extremely confident about his dancing skills, he could act, he admitted that he cannot hold a key, no I mean like really!  He can't sing but he could chant and ride a rhythm and believes this creates the perfect triangle of a true entertainer. He takes pride in the fact that his titles cannot be limited to one particular craft. He is not just a dancer, or singer, or actor! This was his epiphany!! And we think it's an absolute brilliant one at that!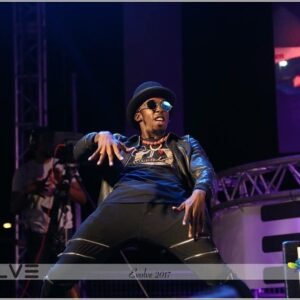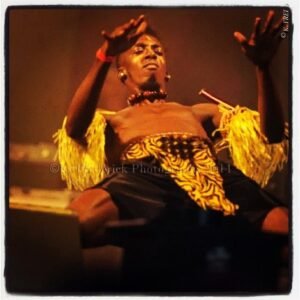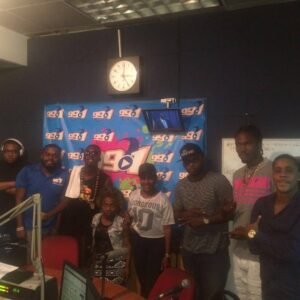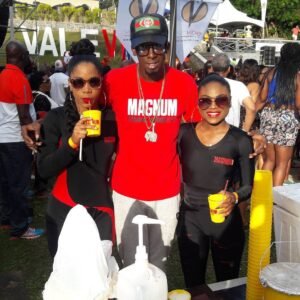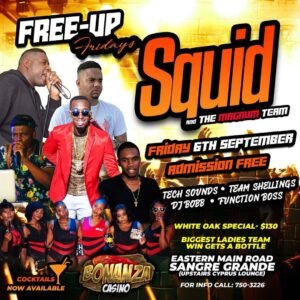 Now we're not trying to paint a picture of fairy tales for you all. There are going to be those times on your journey when you wonder if your hard work is going to pay off and I want to remind you to trust your process. It's not a matter of if, but when it will pay off. Squid's journey was no different. He recalled the frustration of seeing no results even though he was giving life all he had. He tried to maintain a positive attitude during this time, he tried to remain kind, continued helping people the best way he knew how but those moments of doubts still got to him. But boy oh boy do we have a story for you about resilience… Because he NEVER QUIT even when things seemed impossible he was able to do something he never thought was probable and if you're curious to know what that is, we're even more excited to share it with you!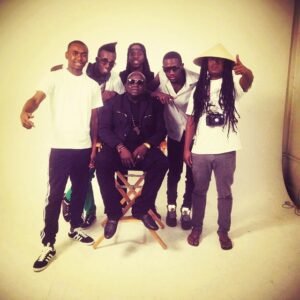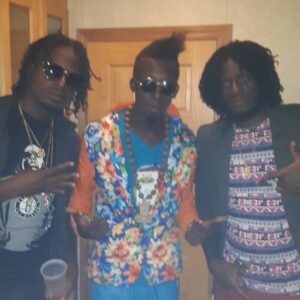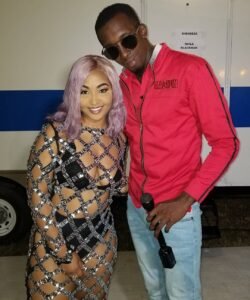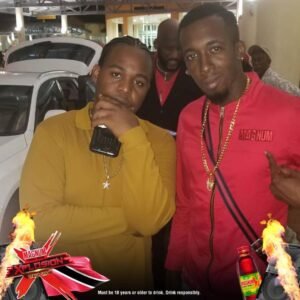 Having visited other Caribbean islands such as Barbados, Squid did have some knowledge about travelling but admits he thought USA was some faraway place, like somewhere on TV.
Before you go like…um what?? Don't get confused, he knew it was a real place but because he's never been there it remained a bit of a fascination to him. If you're thinking, he must've gone to the U-S of A, well better than that! Because of all his hard work and his amazing partnership with Magnum he reached past the USA and travelled halfway across the world to Spain in WOW!
Spain is 11 hours apart from Trinidad and Tobago. He remembers calling his father at 3am with the place dark and it was 12pm in Trinidad.  His father and mother were having lunch at the time.
During this trip he made connections with people, tried new things and new foods. It was epic! He knew nothing about football but ended up in the Santiago Bernabeu one of the largest stadiums in the world with the capacity to hold 81,044 people!! Like just imagine how huge this place is! He even watched an international football match. He was so blown away that he asked himself what little him doing in Spain. AAA-MAA-ZZZ-INNGG! See I told you guys…trust the process.  (Big up magnum tonic wine!)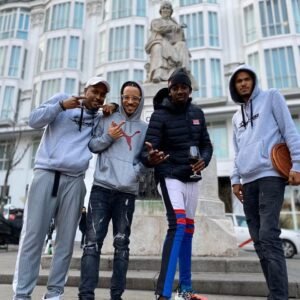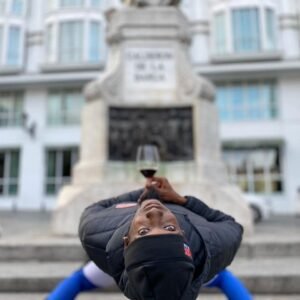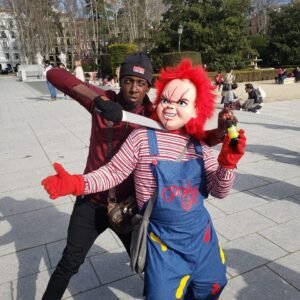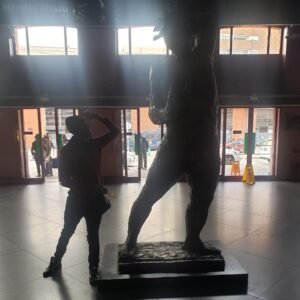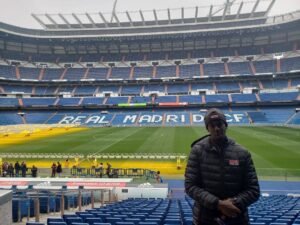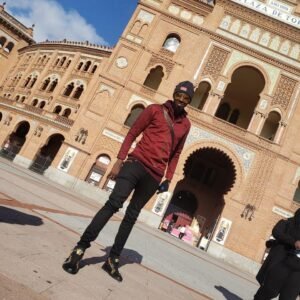 Now I'm not a narrator for Squid's story so of course I want y'all to get some of his true responses, so in our fine Q& A style, let's get our tentacles ready to learn more about this astounding entertainer.
What has been the most difficult part of becoming an entertainer?
The most difficult part about being an entertainer was not having the support from the people I needed it from such as my loved ones. Even the people that supported me in one aspect of my creativity example dancing were the same people who tried to discourage me from trying other things out of caution, however now they are extremely proud of me and how far I've reached.
What is the most rewarding part of being an entertainer?
The most rewarding part for me is the moment I realized that I made my dream into a reality. I was able to prove to myself that I have what it takes to do anything I put my mind to! Sitting back and seeing how far I've come from to what I have now, I'm somewhat satisfied with my accomplishments but I know I still have a long journey ahead to reach my pinnacles.
WOW!! What a feeling that must be! We're super proud of you Squid, and did I mention it's an honour to share your story? I mean you're boundless! By inspiring yourself and bringing your dreams to reality we're sure in the process you taught your non-believers a lesson or two about having faith and the willingness to put in the work to become your version of success! In addition to this we are 1000 times certain that because you followed your dreams and passion you have paved the way for others to do the same. So you see people sometimes you making your dream a reality is not even about you alone! Don't be selfish!
Who/What is your biggest inspiration?
My biggest inspiration is myself and negative energy. I refuse to be limited by anyone concerning how far I can go or what I can accomplish and that keeps me motivated to continue pushing past my limits.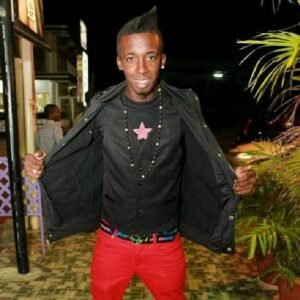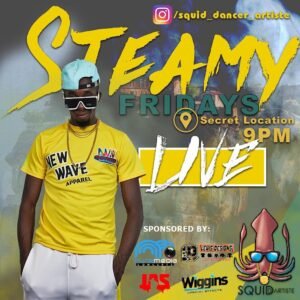 What advice would you give to someone who is thinking of becoming an entertainer?
Never stop pushing and don't waste time trying to fool yourself. Make sure and put in 110% of the work. Don't short change yourself. You can't put 50% and expect someone to come along and put the next 50. This worlds is not a nice place but the more you push is the more successful you will become eventually. I know people who didn't have certain natural born talents to be an entertainer, they couldn't sing, or dance, but because of their mindset of never take defeat they are now masters of their craft. Squid also credits his attitude of gratitude for his success and states he never forgets where he came from and those who helped him along the way.
(SPOILER ALERT!! Y'all are about to hear a story that we are still blown away by to this date. Sometimes on your journey, opportunities will come to you in the most unexpected of ways. Don't miss out on them because of fear or any other excuse! Dare to dream! Dear to try!)
What has been your most memorable moment to date?
I was a dancer for Swappi but we had a falling out. I wanted to go to Summ Fun Weekend which took place in O2 Park with my friends but we didn't have any tickets. We made a plan to sneak in back stage. As we reached the entrance the security stopped us and asked where we going. I started to be dramatic telling him we were dancers for Swappi, he going to perform just now we need to get through. So same time another officer came up to us and was like yeah I does see him (Squid) performing with Swappy, so they let us through.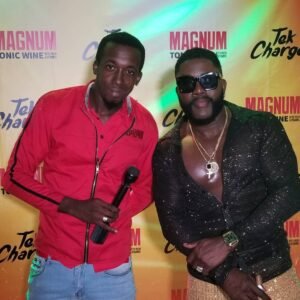 After liming backstage for a while we went to the VIP section. (Somebody else would probably want to lay low but not them) So Adionia is performing and starts to call for someone for a dance challenge. I didn't hesitate for one second.. I went on that stage and gave the performance of a lifetime.  It was at that performance that Magnum took notice of me and we started our beautiful partnership after that.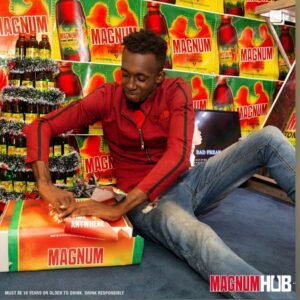 (I told y'all this story was the bomb dot com! We looooovee how Squid's destiny lined up for him in the most unexpected of ways, sneaking into a party! He went for a good time and was rewarded with life changing opportunities!)
Oh by the way in case you're wondering him and Swappy resolved their dispute and are now good to date! He said up to now he didn't get the chance to let Swappy know he was responsible for that opportunity. Because of calling his name he got that foot in the door and so many other doors was opened for him.  Squid wishes Swappy could read this article and it mean something to him. So we figured we would help him do just that. Big Up You Swappy!!!! Thanks so much!! Because we really can't see our lives without Squid the Entertainer/Magnum Man!  We just can't!!!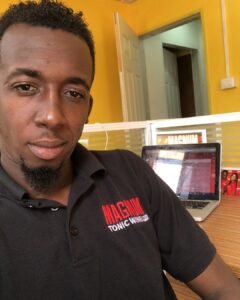 Who do you want to work with and why?
Ding Dong. He is somewhat of the person I want to become. He looks at adversity. He doesn't stay singing a particular kind or style of music and we have similarity with our dance history. Just like me he has a special passion for dance and started off with dancing now he has a dance group and still incorporates dance with the music.
Who is your favourite dancehall artiste?
My favourite dancehall artise is….(He took too long, we'll answer for him) Ladies and gentlemen please stand and give a round of applause for Mr. Adidja Azim Palmer, AKA Addi D Teacher aka Vybz Kartel aka The Worldboss!!! (Somebody Say GGGAAAZZZAAA)
What is your creative process?
My secret is knowing my target audience and what they want to hear. For example if I am singing a song for the zess community I must know the age bracket etc. and build songs on what they want to hear.  They don't want tooo much of lyrics they want simple and vybz. The beats have a very important part to play with the type of song too. It has to have a lot of bass, congo drums, etc.
What was your first ever song?
My first song was a soca named "Yuh mother can't" let's just have a look back at you squid. Remember earlier on we told you Squid is also part time tailor, well the blazer in this video was sewn by yours truly! And it doesn't look bad at all! Have a look for yourself!
I What does success look like for you?
Success for me means being comfortable. I might not have all the money in the world, but I want to have abundance in the things that I desire. My desires is not so much about being rich but more about being able to comfortably provide for my family and afford a life where I can live on my own terms.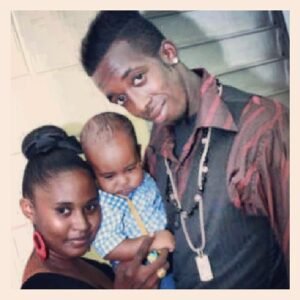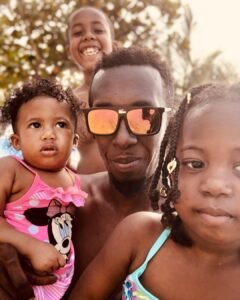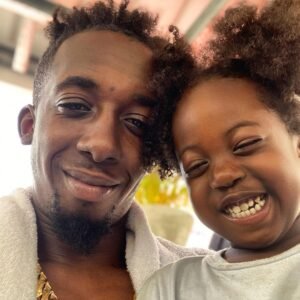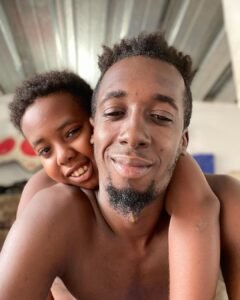 What are your hobbies?
My hobbies are Martial arts, Boxing, Kung Fu, Taekwondo and mixed martial arts. (What we translated this to mean is that in his spare time, he trains to kick butt!!! Lol HIIIIYYAHHH)
What is your favourite food?
My favourite food is buss up shot. The only thing could give that any competition is a Sunday lunch. Yuuuummmyyy!!!
Now I know you all are super amazed! Squid you're truly a great man and an excellent example of why consistency is so important in anything we attempt to do in this life!
I want to say a heartfelt thank you and I'm eternally grateful for this opportunity to tell such an amazing story thus far and of course I look forward to more greatness!!!!
That's all for now folks 🐙🦑🐙🦑🐙🦑
Blessings ❤ 🙏Big Up 🙌