Ladies and Gentlemen can we please welcome to the stage Mr. Elijah Raymond aka Rayquan868.
Born on the 13th of May 1997 Rayquan868 hails from the community of Belmont (I'm sorry y'all but if I don't say this every time I hear Belmont I would have to change my name and I kind of like my name, sooooo here goes….BBBB..IIII….LLLL..lol)
Early childhood for Elijah was a bit challenging as they moved around a lot from Santa Cruz to Diego Martin to Laventille and other areas in the west. This lifestyle required a lot of quick adapting and his method was spending time inside. During this time he focused on academics or something creative. All of this hard work definitely paid off as he attended Trinity College Moka where he stayed for a duration of 7 years. He recalled that they were some of the best years of his life. Notwithstanding this, he built a lot of relationships and learnt many lessons. He also credits the institution for showing him the importance of sacrifice.
Fast forward to post school days, Rayquan868 admitted that adulting was a bit different. He learned that all actions have consequences. (If I may interject here a little, I think we all had a similar epiphany about the world of adulting. For Rayquan868 he describes it as different, my interaction with it is pure disaster!! Lol let us know how it was for you)
Growing up Rayquan868 always thought he would venture into traditional medicine, sports medicine or even environmental science as he really liked science but then decided he would try his hand in music. Starting off was a challenge for him as there was so much he didn't know but he praises amazing the support he has gotten thus far  which allows him to continue this journey even through the adversity.
Not to be mistaken, music isn't some newfound passion for the artiste.  In fact he recalled that he always did music related things as an escape and had a real love for rapping. The love was so strong that he became a regular contestant in battle rap in school and was even given suggestion that he should write songs. He took up this challenge and started putting out songs. He released freestyle and it gained a good bit of traction that's when he realized that he might be able to pull it off.
(We're super proud of you for following this passion! Look at you pulling it off! )
I hope this isn't your first time reading one of our articles, but if it is big up you still!  So we have a bit of a style if you want to call it that and that style is Q&A. So without further ado, let's jump right into these questions with the amazing Rayquan868!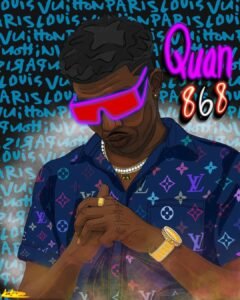 What has been the most challenging part of being an artiste?
The most challenging part is staying focused, performances, managing time, managing resources and the business and promotional side of it. Music is not something where you just sing a one song and that's it, at least not for me as an independent artiste.
What has been the most rewarding part of being an artiste?
Any opportunity to create and share my story, entertain and provide enjoyable music is a reward for me. The ability the share my message and through song and musical expression whether Live or through platforms is why I continue to make music.
Who or what is your biggest inspiration?
Weirdly enough I wasn't the biggest music lover but I got really started enjoying after listening to Michael Jackson; then when I transitioned to rap it was Eminem and 50 cent who really showed me how enjoyable the music could be. (Ummm…did you all notice this man just named legends!! He has a true foundation of quality)
What is the best advice you would give to someone who is interested in becoming a musician?
First make sure you enjoy it cause with everything there are astronomical highs and crippling lows but if it brings value to you or provides for you then what more can you want.
What has been your most memorable moment to date?
I'd never forget when I first stepped on stage and performed. But recently when I released Trackstar the entire roll out was a memorable and enjoyable one
What is your favourite song from yourself?
My favorite dancehall song from myself was careful (Zesser but that's subject to change with some new things on the way)
Here's a little preview!!! VYYYBBZZZ RIGHT!!!
Who do you dream of working with?
My dream is collaboration might be an artist at the top of their genre like burna boy, drake, popcaan come to mind.
Who is your favourite dancehall artiste?
My favorite dancehall artist locally K Lion (RIP) and at the moment internationally I would have to say Popcaan.
What is your creative process?
It all depends, some of my songs come from real life scenarios, trending topics other times is just from holding a medz. Usually I know the beats I like immediately, if I can write one time I'm in the right direction. Sometimes I may have melody or lyrics but this is occasionally.
What was your first song?
My first dancehall song was called Careful (Zesser) link here: https://youtu.be/q453FVlufDY
What does success look like to you?
Success for me is doing music full time, collaborating, telling my story, representing Trinidad and consistently release hit songs. From their expanding to the global market is a mission for me.
How many songs have you written to date?
Honestly quite a few, more than 20 certainly. Each song is new opportunity and brings it own blessings and lessons.
What are your hobbies?
I'm into sports also basketball is a hobby for me, I enjoy art whether it be designing or other media. Those are the main ones that come to mind.
What is your favourite food?
Honestly I love my belly so this one's tricky one but Pizza, Fried Chicken and doubles are a few that come to mind. (Let's just say I could lime and eat with you Rayquan868, interested in starting a belly lovers club?? Lol )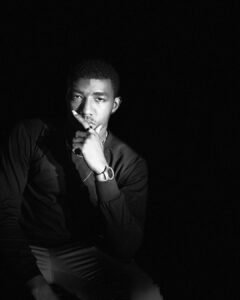 We're super grateful for this opportunity Rayquan868 and we wish you continued success in every venture!!
Love and Blessings Guys!!
Big Up!!