The entertainment community continues to take several hits after losing yet another upcoming brilliant and talented artiste.
On the 26th of September news of the passing of Siah Boss spread like wild fire. Fans of the movement held their breathe hoping it wasn't true as they were still coming to terms with the death of another great artiste Jahiem Joseph aka Chucky Blanco which happened a few days prior.
Reports stated that Siah was killed in a police involved shooting in the Santa Cruz Area.
Born on the 13th of January, Siah displayed true Capricorn Traits namely persistence, practicality, and ambition.
Recapping his musical journey through his Instagram Siah's first post was dated on the 24 of September 2019 captioned "Fr fight and fight down".
We then see a glimpse of his musical performances  ft. fellow musician gskull_musikk.
What can only be classed as a declaration of love for the art of music, Siah posted on the 25/3/2020 captioned "Back at it again….Music is wah me LOVE….just remember everybody time must come..#stayfocus #onelink. Thanks for the support..#Dr. V MAD MANAGER"
The esteemed Dr. V is an author, lifecoach, family counselor, football coach and radio and TV host.
The return wasn't just a part of his name, it was symbolic of his recommitment to his music and he further solidified this recommitment by releasing a song entitled The Return.
In true Sting spirit of friendly competition Siah went on to show a sneak peak of song he was recorded that was dedicated to another camp within the local music realm.  The caption refers to one of the biggest rivalry in Dancehall music history "Remember Vybz Kartel , Mavado"
Still not missing a beat, we have a duo with Siah and fellow artiste Leo King.
Still in the musical competition, there was a preview of facts which was directed to the ztekk camp as it showed the Prince of the camp, Prince Swanny and Medz Boss.
An indicator that you are inside with the music is that you are featured on Outdey TV which is exactly where he was featured. The interview proved to be a very interesting one as it revealed some very intense history.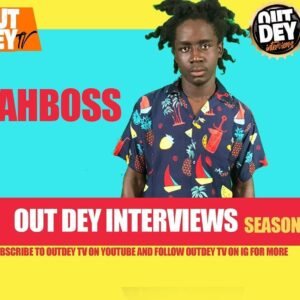 Trinidad and Tobago was so pleased to see the union of two rival gangs, the rasta city which is musically represented by Prince Swanny and the Ztekk team and the muslim Gang which features artistes such as maniac Toppy Boss, Magic and Siah Boss.
The entertainment community and by extentsion the fans of the movement were very pleased with this event and looked forward to fire collabs. I mean can you think about how epic a duet with Kartel and Mavado would have been? It's the same when us music fans envision a collab of different camps…#greatness overload.
Siah then went on to release a song referencing the peace treaty that also gave some insight into the life.
Health issues became the forefront as a post was made on his behalf from his manager asking everyone to keep him in their prayers following a surgery he underwent.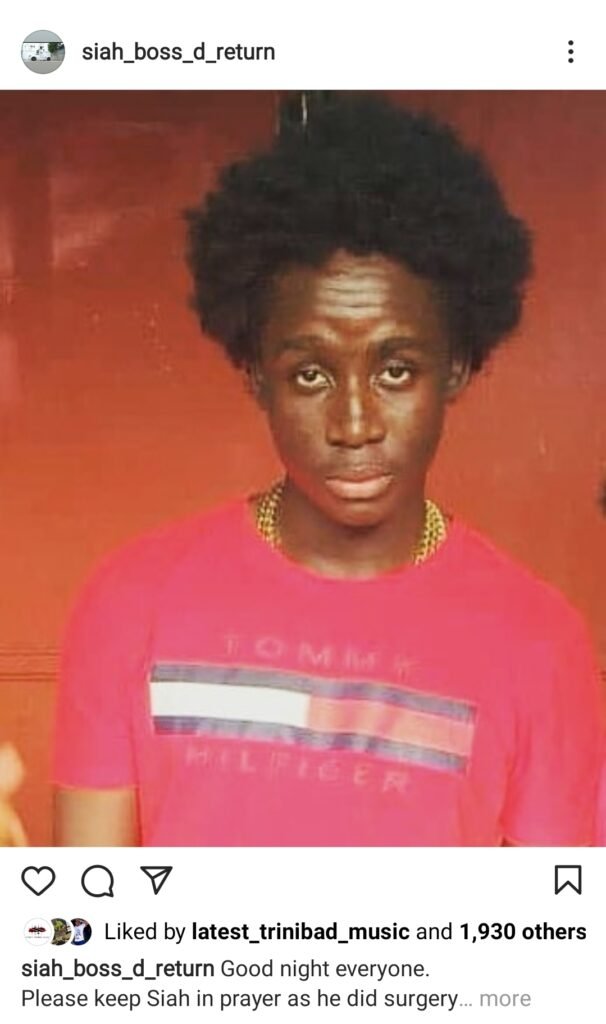 Siah was then thinking of a master plan and credits again the esteemed Dr. V for having him full 100.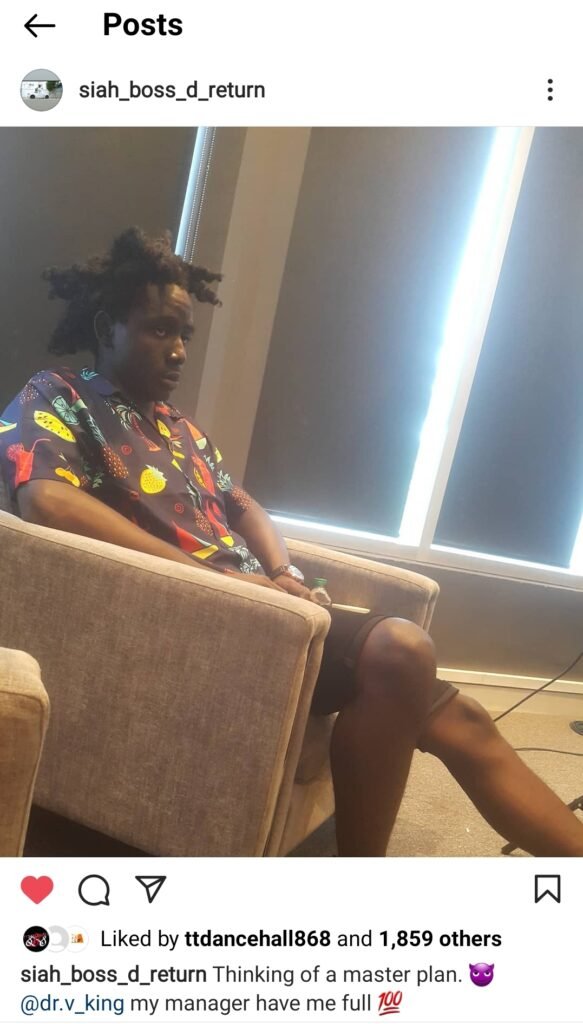 The Return part 2 was released
We were fortunate enough to get a glimpse of Siah in his fatherly Glory as he posed with his son captioned "Twinning, My son #father"
We get some songs to get groovy for as he went on to release F**ck Time
Wasting no time with his gifts Siah released his EP entitled Pain and Penitentiary which featured his 2020 collecton of music in one album. Ep available on applemusic spotify and other streaming platforms.  The album would go on to place 6th on Itunes less than 24 hours after its' release.
The artiste then posted a pic of what appeared to be him in jail captioned Freedom is a must however as the worldboss Vybz Kartel has proved over the last decade is that you can be locked up but still work on your music as despite the pic showing the artiste locked up that same day he gave the preview for Double Drum again featuring the talented Leo King.
Kicking off the start of this tragic year Siah posted himself working on his birthday. He thanked Allah for life and promised new music on the day and delivered just that with a preview of a song entitled Dan Kelly.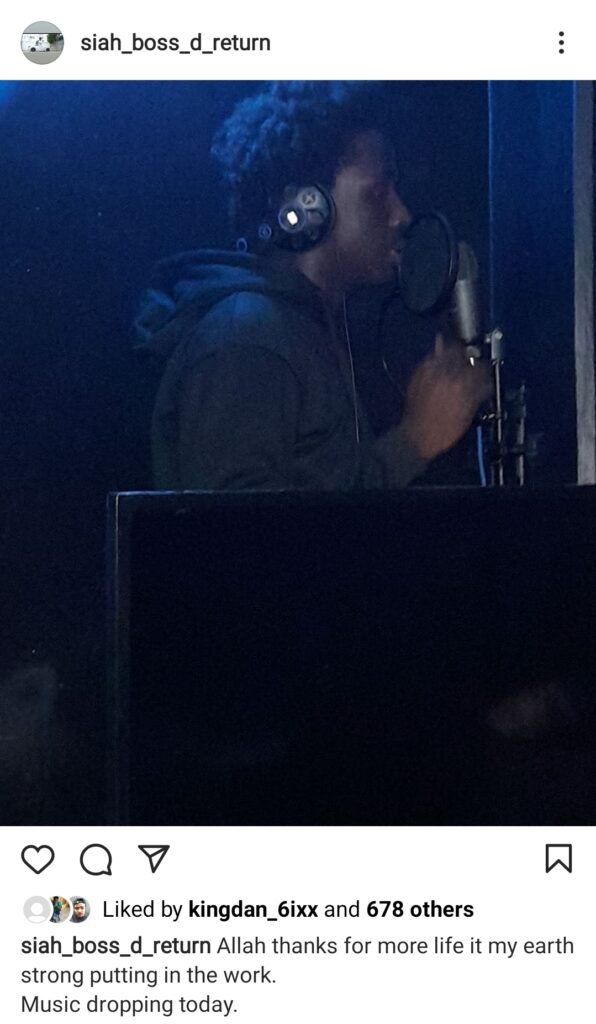 Sexiness again describes the preview of his song called Vice featuring Jojo.
Work ethic was one to be admired as the artiste announced his verification with music streaming platform Spotify encouraging fans to start streaming his music.
Jumping on the popular A-69 Riddim Siah again released a preview of new music captioned "Believe me…I'm coming back like never before" Shortly after the audio we got a preview of the video.
We then saw a declaration of a commitment to personal peace on the 7th of July as Siah swore he was good with everyone from that day as it was too much fight down for one person.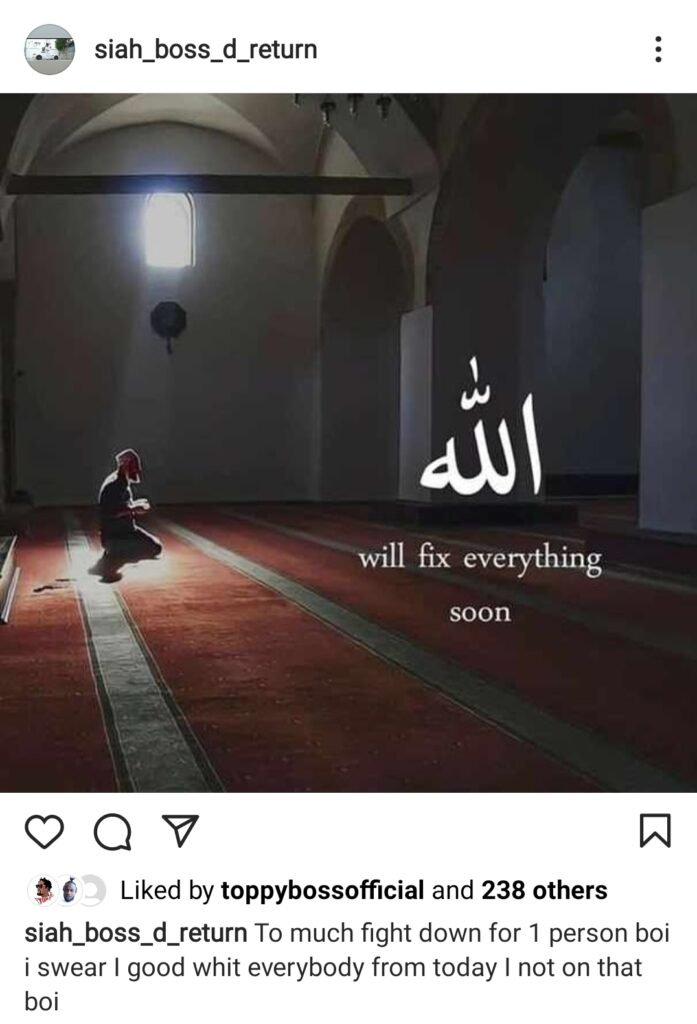 Siah then posted a pic with a caption that gave some insight into his mind and perspective.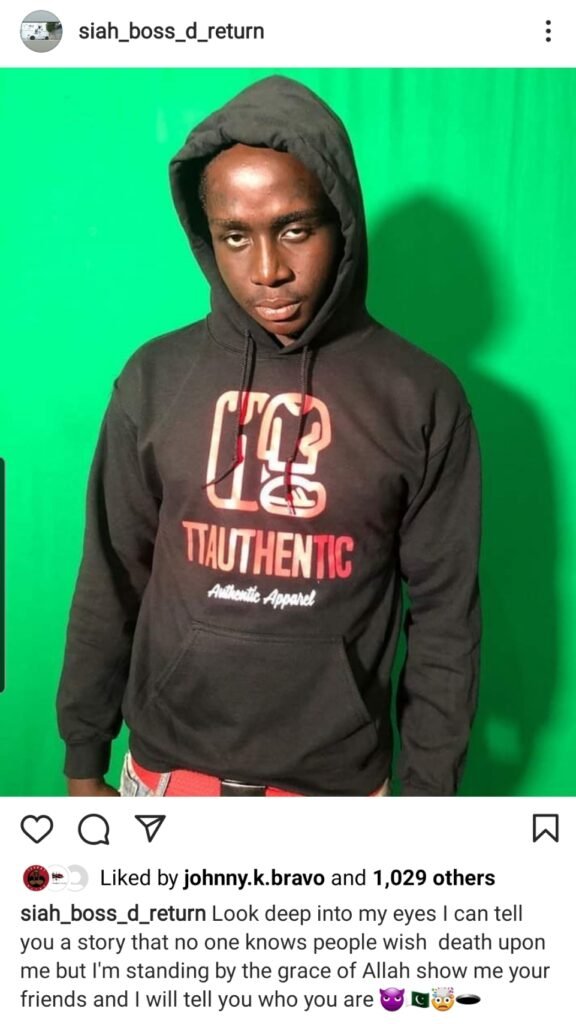 We then got hit with a banngerrrr!!!!
The hope of every hard working person-to be successful was no different for Siah. He proved this on the 15th of August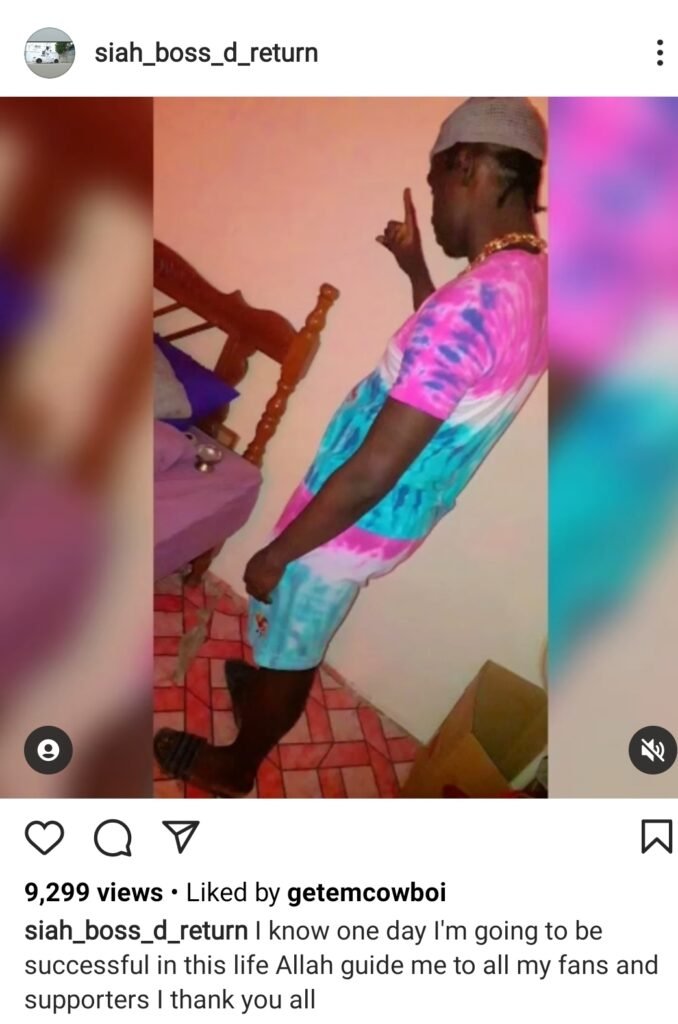 The last previewed song from the artiste is was on the Reloaded Riddim.
Siah expressed his hurt on the passing of  community leader Anthony Boney aka Boombay.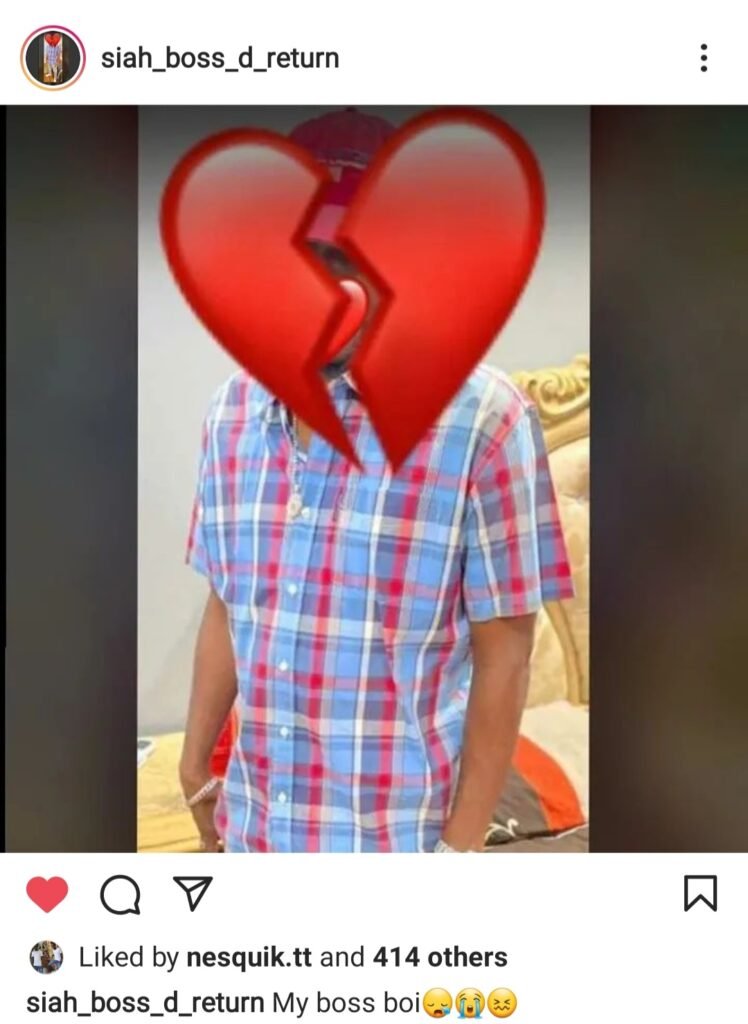 He further reiterated this by sharing the late Chucky Blanco's tribute for Boombay on his page.
Siah then posted another tribute song captioned "This 1 make me feel pain boi swear"
Following this we see the shock and hurt expressed on Chucky Blanco's passing.
The latest post was in honour of Siah following his passing. It was captioned "R.I.P to a father, son, brother and entertainer. Siah's legacy will live on forever through his music. Fly High King"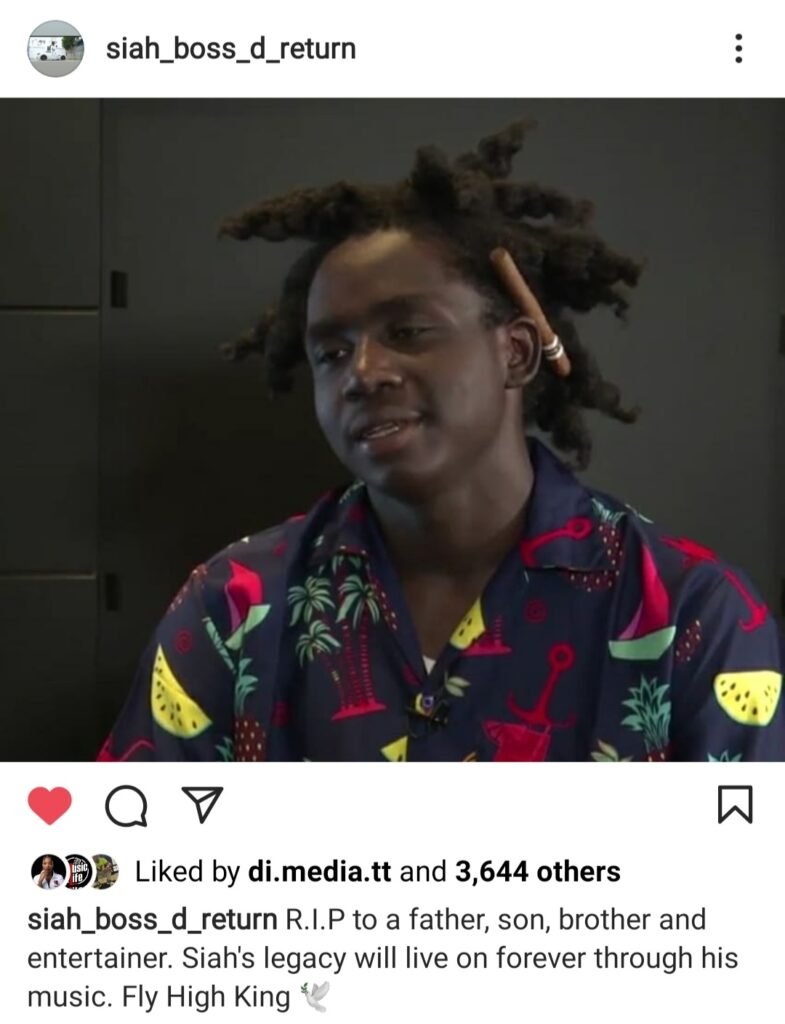 Though short lived, Siah was defnitely on a path to achieving greatness. We  take this time to send our deepest condolensces to his family, friends, and fans. His legacy will most definitely live on.
These are the last posts made to Siah's Instagram story on the day he died. May he rest in peace.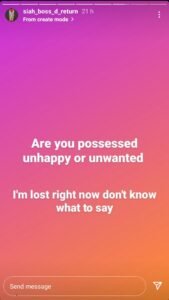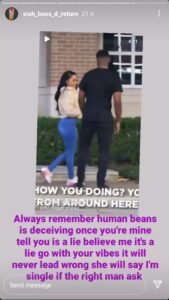 Blessings Big Up