It's with the heaviest but most grateful of hearts that I'm writing this tribute. It's painful to see such greatness short lived and although time is flying as we arrived at the one year anniversary of your death, we know in terms of healing, the process is slow and painful.
A year later and we're yet to come to terms with this great loss as a country, as a music community, as ghetto youths, as aspiring musicians or creatives, as family, friends and fans. Losing you shocked us all and broke many many hearts.
I fell in love with your lyrics foremost. I loveeeee when an artise can expand his vocabulary, use puns, smilies and metaphors…you know that way they can merge two totally different concepts or examples and bring it together so eloquently to confirm a point. "Shot a fly like comet" "trigger squeeze man jumping and jumping like rabbit" you've done this in all of your songs! All!!! Even the sexy ones! 🤤🤤🤤
I also love songs that are challenging to learn, it really let's you engage in the music on a deeper level. It allows you to spend more time with the song and even more than that it allows you to connect with the artise on a deeper level as you try to understand their chain of thoughts and inspiration in each masterpiece. Some of my favourite songs from you are challenging to learn lol and since I'll not get the confirmation from you that I need with what the words are, I'll just sing what I think I here or as closest to real thing as possible and hope to make you proud for the effort ❤ because you deserve at the very least! Effort from your fans when showing appreciation for you and your craft.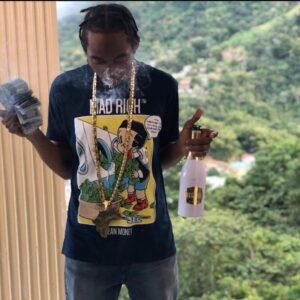 I am grateful 🙏 forever 🙏 that we had a moment in time to connect and I'll cherish it for the rest of my days. I am also grateful that you pursued your musical passions, that you dared to believe in yourself. Because you lived, because you put in the work, because you used your voice, you've made an impact on millions of people and will continue to do that. I'm grateful that I get to live through history whilst it's being made. I thank you ❤ because of you a flame was lit in my heart and all of a sudden I had hope! I had hope that there's a possibility that my dreams can become a reality! For this gift I'm forever grateful 🙏
Rest in Paradise King Malandro ❤❤❤❤❤
Blessings ❤ Big Up 🙏