Malique Campbell also known as Kid volt was born on the 26th of August 1999 (VIRGO) Before becoming a singer, Malique was actually a dancer who always executed his dance moves with a lot of energy and power! it was electrifying!  that's when one his teammates by the name of Droid gave him the name "Volt" being a child at the time, he added the Kid, and that's how the nickname Kid Volt was coined.
Born in the town of Sangre Grande also known as Big Blood, Malique recalls how he was surrounded by negativity, such as growing up without his father, poverty and even being exposed to the street life, but he tried his best through all of this to look at the positives. He also mentioned the love and support he received from his mother, sisters, brothers and even relatives throughout every aspect of his life which helped him to be strong.
Delving further into his life, Malique spoke about his experiences in the education system. He credits his school experiences from primary to tertiary level for helping him to appreciate his talents more such as dancing, singing and acting. In addition to this, he believes it gave him the tools to develop the blueprint for his active career. Partnering with organizations like N'belese Creativity of Arts, Skyian Nation, Machi musiq and Always Kreative Studios also helped to shape him into the artist he is today.
Asked what he wanted to be as a child, Kid Volt said he wanted to be an entertainer. PERIOD!!! (talk about following your passion!!)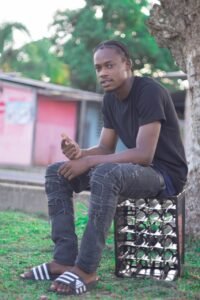 The moment of realization for him to operate in a professional capacity came in his early twenties. In his words, "there were two moments that activated that spark to greatness. The first was when Tevin Isaacs (Manager), Machi Musiq (Producer) and I went to J Dott studio to record my first single named 'Beautifully Sculpted' in a car that could not reverse without people coming out of the vehicle to push it. lol" (We definitely believe that the journey to success is just as important as the successful title itself, imagine looking back at where you came from!)
The second moment was at October Fest 2019 which was held at Trini River Lime. Here he got the opportunity to perform with major artists. He recalls being backstage with these Trinibad stars and having conversations with them added to his final decision to become the greatest entertainer.
Read on as we get to know more about this multi talented artist and his musical journey in fine Q & A style!!!
Q-What has been/is the most challenging part of being an artist?
Gathering finances to fund projects.
Q-What has been the most rewarding part of being an artist?
The most rewarding part thus far is the responses from people in the streets and on social media
Q-Who/What is your biggest inspiration?
My greatest inspirations are my family and poverty
Q-What is the best advice you have for someone interested in becoming a musician?
Be ready and willing to make sacrifices. When I talk about sacrifices I do not mean like selling your soul, but like your time, sleep, finances, friends etc. (thanks for the clarification with the soul thing! lol)
Q-What has been your most memorable moment as an artiste to date?
Performing at the Sweet Sixteen award ceremony, the child came out to the front of the stage to get a better view of my performance and stretched out his hands for a handshake.
Q-What is your favourite Dancehall song from yourself?
Forever- https://youtu.be/TjipxxNE2G8 and 2020  Freestyle – https://youtu.be/xjylD51zAKs
Q-Who is your favourite dancehall artist?
Popcaan and Jahllano
Q-Who do you dream of working with and why?
Popcaan, Skillibeng and Jahllano, because I admire them very much as artistes
Q-What is your creative process to come up with a song?
Simple! Gathering inspiration from my environment, and release knowledge and lyrics to paper then to mic, or freestyle to the mic
Q-What was your first song and when was it recorded?
My first song was beautifully sculpted and it was recorded in 2018- https://youtu.be/cHwPkmLRaxo
Q-What will success look like to you?
Success will look like growth in every aspect. Just picture me providing for my family with ease, touring the world and making a living doing what I do best
Q-What are your hobbies?
Singing, dancing and acting
Q-What is your favourite food?
Dumplings and saltfish (Yummy!)
By now I'm sure most, if not all of us know that life can take you to some unexpected places and cause us to refocus and even change our paths completely. We've been informed recently that the great Kid Volt has decided to take on a new journey in life, one that may or may not involve music, we don't know. But what we do know for sure is that whatever this new journey and passion, we pray that it brings him all the success, love, joy, peace and everything else that can make his heart smile! We love you Malique!!
Blessings! Big up!