If you're not from Trinidad and Tobago, not a celebrity, not a well-respected Soca or Trinibad artiste and I were to ask you who is Johnny Bravo, your initial thoughts may be the long time cartoon character from 1995. The one who always tried to hook up with ladies and always forgot his pants lol and you would be wrong. Although the physique may have some similarities in that they are both very strong, no I'm not talking about that Johnny Bravo.
Ladies and gentlemen allow me to introduce you to one of Trinidad and Tobago's finest professional bodyguards Mr. Kevin G. Da Costa. Born on the 3rd of August 19—– (Leo) in our beautiful Twin Island Republic of Trinidad and Tobago and raised in the USA, he holds the esteemed portfolio of Professional Bodyguard and CEO of V.I.P.P.S Limited. He gained the nickname Johnny Bravo from the people after they witnessed him in action at an event, a story which you will read about later on in this article.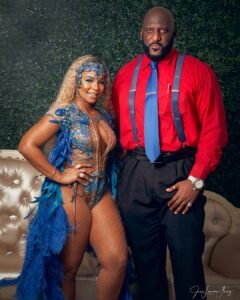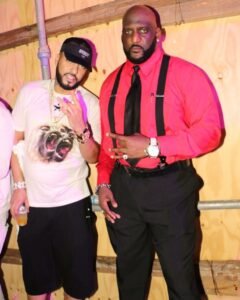 Asked about his earlier life, Kevin gave us a wealth of amazing history and we are absolutely honored to interact with such an individual. Graduating high school at age 15, Kevin initially focused on sports playing American football or as we call it here rugby, he also played track and field and basketball. Towering at a height of 6 foot 4 we can only imagine how skilled he was at playing these sports. His heart was even set on playing football professionally but an injury would cause him to shift his plans and pursue other things.
He went on to join the US Army where he credits them for his initial training in discipline and militancy. After his time spent in the army he went on to train specifically to become a Bodyguard.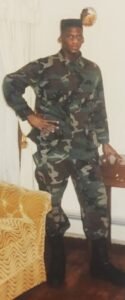 This training would be done by his Sensei and mentor Mr. Deondre Kennard who taught him several skills including but not limited to combat, fighting, disarming knives and even how to disarm a firearm.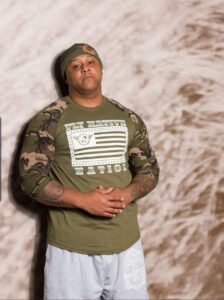 Upon his completion of training he would go on to work professionally for some of the biggest names in music to date. He has done work for the likes of KISS rock and roll group, LL Cool J, Foxy Brown, Jodeci, 702, Blaque and even the Rest In Peace Notorious B.I.G. parade. After the death of music legend The Notorious B.I.G. he recalls that there were hardly any performances and the music industry was slow. Being unemployed for a while he decided to return to his mother land Trinidad and continue his works as a Professional Body Guard.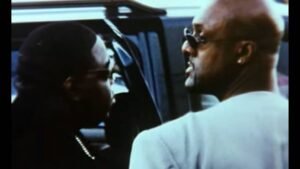 Upon his return to the Caribbean he linked with Mr. Ellis Chow Lin On who is the uncle of renowned DJ Chinese Laundry. He also connected with Cliff Harris who was the promoter for the Voice of Love Concert which took place in 2001.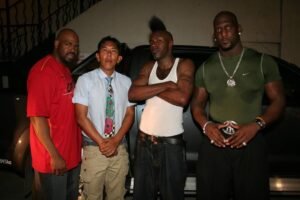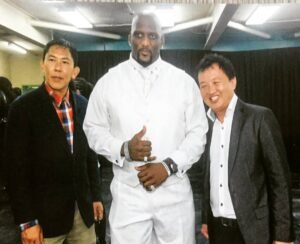 At this event he got the opportunity to bodyguard Reggae and Dancehall artise Barrington Levy. He also had the opportunity to Bodyguard Junior Kelly, which to him was one of his biggest experiences to date. We all know the legendary song sunshine and he vividly remembers how the crowd went crazy as it was being performed. Notwithstanding this he also worked with the outstanding Conscious singer Sizzla Kalonji.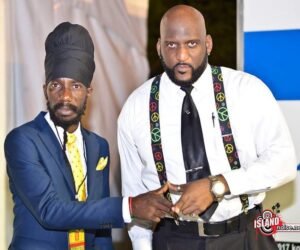 Delving further into this rich history, he recalls being contracted to work The Great Fete Weekend Concert for a period of over 10 years which takes place in Pigeon Point Tobago. During this time he worked with International and Jamaican musicians namely Desiigner, Ashanti, T.I, Baby Cham, Fabulous, French Montana, Vybz Kartel, Shenseea, Aidonia, Popcaan and Elephant Man to name a few.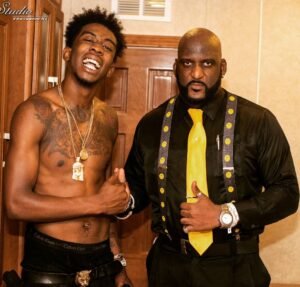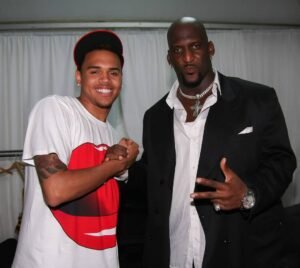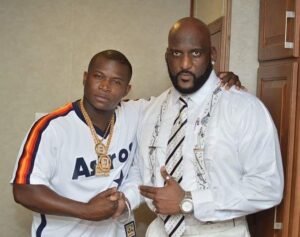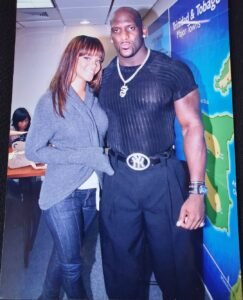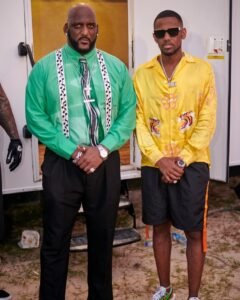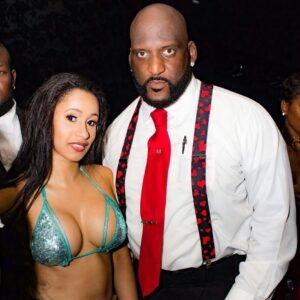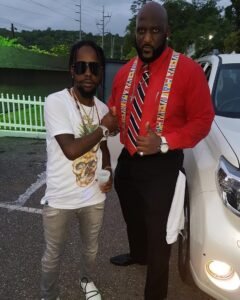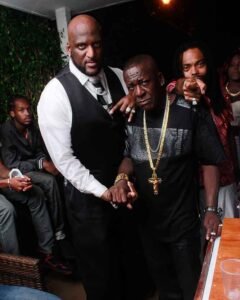 When it comes to our beloved Trinbagonian musicians he talked about how memorable it was meeting and working with the King of soca Machel Montano in the year 2003. He went on to credit alot of his work and success to the Soca industry and the many talented artistes he worked with over time such as The Queen of Bachannal Destra, The Viking and Viqueen duo Bunji and Fay-ann, Whining Queen Denise Belfon, The Water Lord Iwer, Rupee and Alison Hinds, again, this is just to name a few.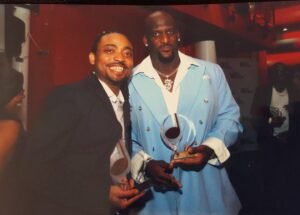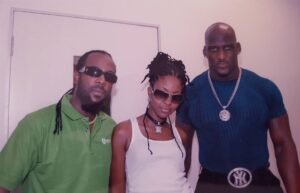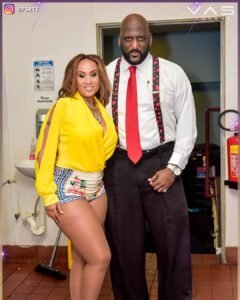 Now I know you remember earlier I said I would give you the story of how he got the name Johnny Bravo, well the suspense is over! The story went like this: The venue was The Lair Disco club located in Laventille Road, San Juan. If you know your Trinidadian history you would know there was a time when there was a bit of bachannal as we like to call it between the water Lord Iwer George and Entertainer Rachel Price. Ok well on this particular night, Iwer was singing his belly in your bam bam song when a patron would lose all his senses (the lose all his senses part was not Mr. Bravo's words, they're mines and you would know why I said that very soon lol) and SPIT, yes you read it correctly! spit on Rachel Price. Security was called and by security I mean Mr. Da Costa. Upon arriving at the scene of the altercation, he was faced with the out of order patron. Of course with his professional demeanor and training, his initial response was to bring the situation under control as quickly and calmly as possible but it didn't happen that way. He ended up having to body slam the patron. After doing this the patron of course had to be escorted outside, but how do you think it was done? If you thought well he probably walked him out after he got up let me just tell you that simply doing that can't possibly give you the nickname Johnny Bravo!! Noooo but if the patron was then lifted like a sack of flour with one hand and thrown over your shoulder then something like that will send a crowd wild! Which is exactly what Kevin did and exactly how the crowd went. He laughed a little as he recalled the crowd's response. He said people were like Oggoood etc. and I can only imagine the conduct based on how dramatic Trinis are lol from that day he gained the nickname Johnny Bravo. A well-deserved name, don't you think?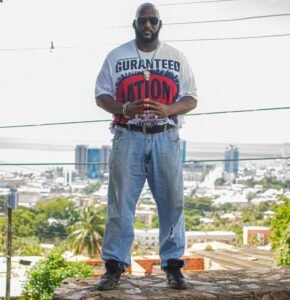 One of my favourite questions to ask someone is: as a child, what did you want to be when you grow up? My reason for this is because I believe the things we are passionate about as children is an indication of our purpose and though we may take different paths, somehow it always aligns with our life and the things that make us happy which is pretty awesome. Asked Kevin what he wanted to be and his response was an FBI agent or Police Officer. The reason for this is because he loved the idea of catching criminals and protecting people and I think we can all agree that though the title is different, the purpose is the same.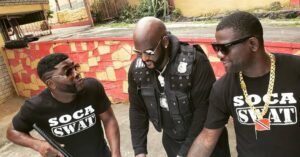 Even though Mr. Bravo is a professional by default, we still asked if there was a particular moment when he decided to do this line of work in a professional capacity. His response is that he was in high demand as his towering height and size commanded attention. In addition to this, his excellent communication skills, professionalism, clean and groomed attire would cause him to gain even more respect.  Word eventually spread about this elevated level of security and he recalls it got to a point where even the promoters didn't say what to do because they didn't need to. They were confident in his capabilities and satisfied with his work. During this time he observed that security in Trinidad wasn't very noticeable, especially in a club setting as they were usually dressed in plain clothes whereas his style was more of a professional appearance. He would go on to implement these changes within the security setting and encourage officers to wear formal suits, jackets and soft pants. On Fridays officers would wear all black, on Saturdays black and white etc. as not only did it help with the overall aesthetic of a professional but it also helped to make officers easily identifiable in the event a patron needed some assistance.
Creating and maintaining this new standard in professional security, Kevin would go on to work at some of Trinidad's exclusive and popular clubs and lounges, namely The Lair Disco, 5th Element Night Club, Zen Nightclub, Alchemy Night Club, Taj Mahal, Club India, Club Chocolate, Aria Lounge, Silhouettes Lounge, Vas Lounge, 51 Degrees, XO Nightlife, Tzar NightLife and Ultra Lounge to name a few.
We love a good Q&A segment in our articles as we want you to read the responses as told directly from the respondent, so of course in our fine Q & A style, you can continue to read about the amazing journey of Mr. Johnny Bravo.
What has been/is the most challenging part of your job?
The job of being a bodyguard itself is challenge because you're like a human shield. There will be times when you need to go above and beyond the call of duty as you may be faced with unpredictable events, but one thing you must always do is be prepared to handle any and all of them as they come. Let me give you some examples.
Myself and another guard were at a book signing event with LL COOL J and he simply licked his lips and that sent the fans crazy! A swarm of women started rushing him from all sides with absolutely no control! if you know about book signings you would know they're supposed to be orderly and this one was far from that but of course Mr. Cool J was kept safe for the entire time.
(Now for those of you who may not recall just how sexy LL COOL J was at that time, let me just remind you for a quick second. And all I have to say is that I completely understand their reaction lol)
Another memorable moment was at a Rick Springfield concert when Rick jumped into the crowd and was going to different patrons and I did the same as I had to stay close to him and ensure his safety.
(In case y'all have never seen what a Rick Springfield concert looks like, let me give you a look)
The last one I'll talk about is at a Sean Paul concert I was called by Lisa Wickham to assist a patron who fainted, I picked her up bodily and took her to safety until the medical professionals arrived.
What we gather from these scenarios is as a bodyguard when you say protect, you mean protect at all costs! Big respect to you for that code of conduct!
What has been the most rewarding part of your job?
The most rewarding part of my job is all the perks and complimentary stuff that come from being well connected and respected. For example I worked for the opening of Movie Towne in 2005 and when Rizzoni Restaurant first opened I took a girlfriend there on a date and was treated like a King. The entire meal was on the house and the treatment was exceptional. There are several instances like this but you get the idea.
Who/what is your biggest inspiration? Why?
My biggest inspiration is my mentor Deondre Kennard, he did a lot for me. I am who I am today because of him. He set the foundation for me, taught me discipline, leadership, how to be a boss and to never give up.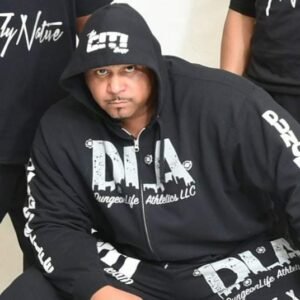 What is the best advice do you have for someone interested in doing your line of work?
Training is extremely important. You must have confidence and faithfulness and your performance must always be 100. You have to be respectable and be the best you can be at all times.
What has been your most memorable moment of being in the dancehall industry to date?
I have several but will limit this response to two moments. The first one was China Town in 2017.  The streets wanted Prince Swanny to perform  in front of 10,000 people. I spoke to the promoter and asked if that could be possible, he told me he will get back to me. After about 20 minutes he gave me the answer, The Prince was approved for 1 song.  He performed brother brother and the crowd went crazy requesting Zesser Dem. Prince Swanny looked at me, I looked at the promoter, he shook his head and gave the ok and he continued performing! From that day a star was born!! There was a connection with Prince Swanny and Gaza Gi and from there different things were put in place, radio plays, interviews etc. I must say there was a lot of team effort from Prince Swanny's Camp!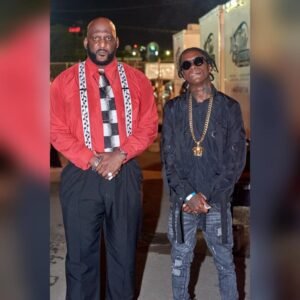 The second moment will have to be when I controlled the security at one of Trinibad's biggest events to date called Knock It which took place in Tantra Terraces Sangre Grande in December 2019. Prior to the event the streets of Belmont introduced me to Klion and I got to meet and work with Klion and Rebel. I would go on to escort them to certain events and nightclubs. I got booked for Knock It and the promoter wanted me alone to work but with the big line up of artistes I mentioned they needed more security and that's how I controlled the security for that event with over 50 officers. That show was Epic!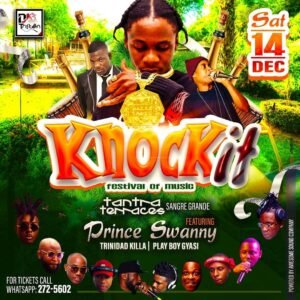 What is your favorite dancehall song?
I don't have a favourite song at the moment.
Who is your favourite dancehall artiste?
Right now from Jamaica Beenie man, Vybz Kartel, Mavado from the older generation and from the new generation I like Skillibeng, Squash and Jahvallani.  From Trinibad I don't have a favourite I think they're all overflowing with talent and creativity.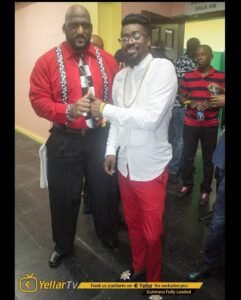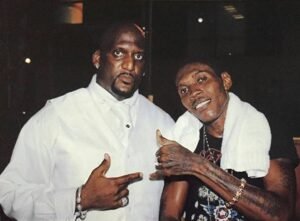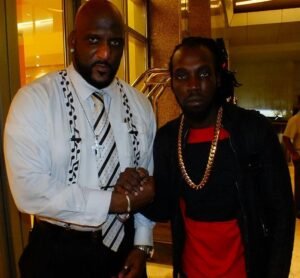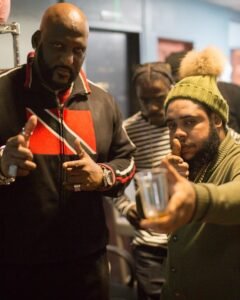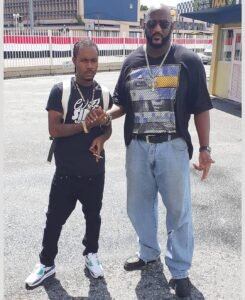 What is your process prior to working?
I pray before doing anything as that sets the foundation. I meditate and I rethink the mission for the day and try to execute as smoothly as possible.
What will success look like to you?
I feel like I've already achieved my version of success as I've accomplished what I set out to do when I started my journey. Right now I'm trying to explore new things and reach new pinnacles. For anyone trying to reach to their version of success let me just say that in order for you to really do that you need to live your life the way you want to live it. Be true to yourself, do what you love and enjoy and make sure you surround yourself with good people who admire and respect you.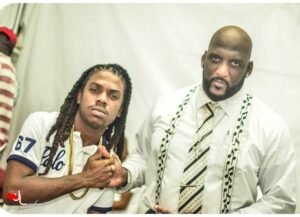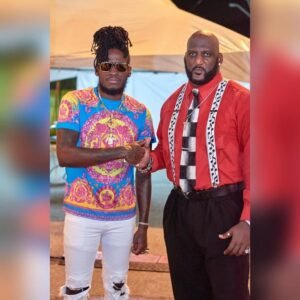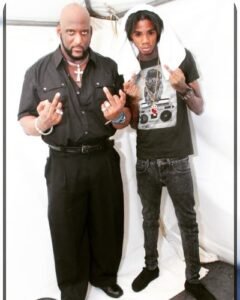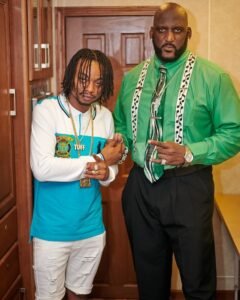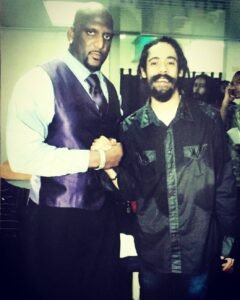 What are your hobbies?
I'm a gym addict! I love working out, staying fit and in shape. I also like playing basketball and football.
What is your favourite food?
I'm a simple man. I love Macaroni pie and I love Cornbeef and rice, I think that's a classic dish and my favourite desert is cheesecake.
What are your hopes for the Trinibad Movements
I hope that we can go global! even to the point of winning a Grammy! And We hope so too!!!!
Ok people, unfortunately all good things must come to an end, just like this article. I know it's not right but I didn't make the rules okay. If you're thinking waw…he sounds like a top of the line bodyguard, I wonder how I can contact him for all these stuff I have lined up post covid lockdown and depression…well I heard you (no I'm not psychic, it's just that great minds think alike) For more information regarding Johnny Bravo you can check out his directory listing and for more on his Bodyguard Services and Security check out the info below.
V.I.P.P.S Security Company
1-868-293-0000
I know you're blown away by Johnny Bravo and his life! I know we sure are! We want to thank him so much for this opportunity and wish him continued elevated success in every endeavor. Now you know I love yah but I got to leave yah! But before you go! Have a look at all these amazing images of Mr. Bravo alongside some of our beloved artistes! Big Love and respect to the soca community!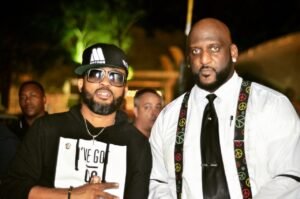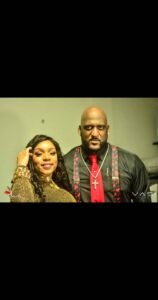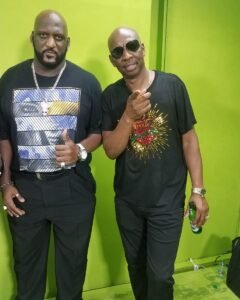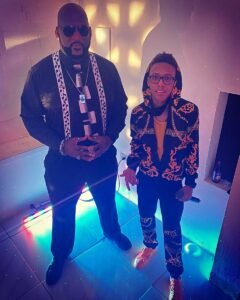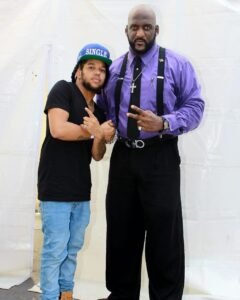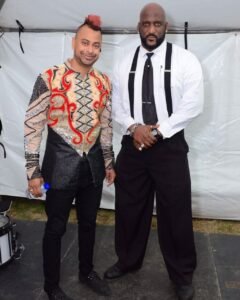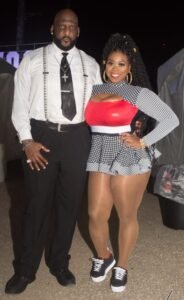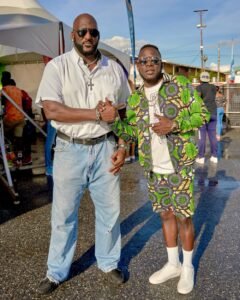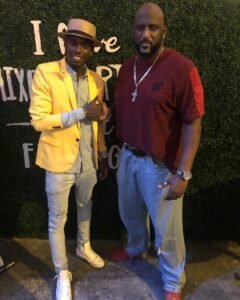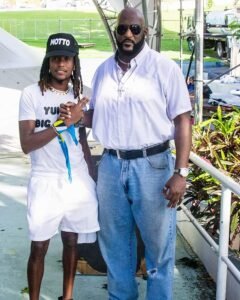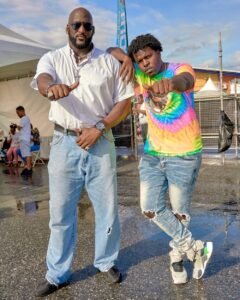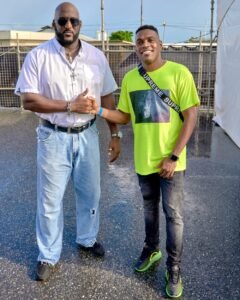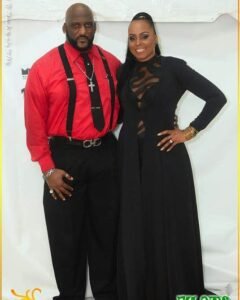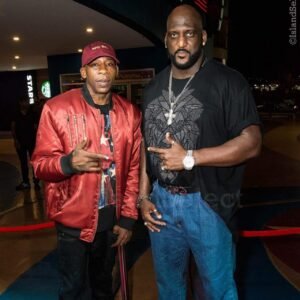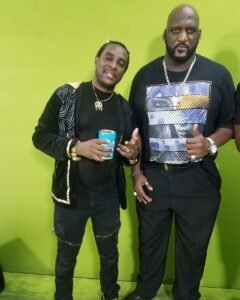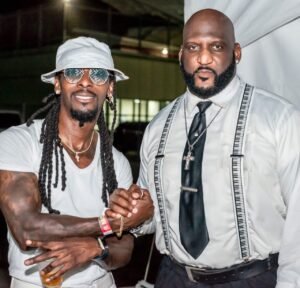 And of course big love and respect to our Trinibad and Dancehall community!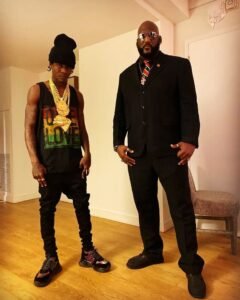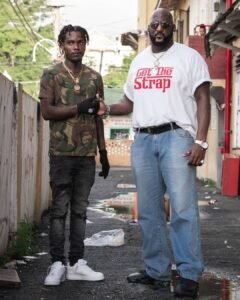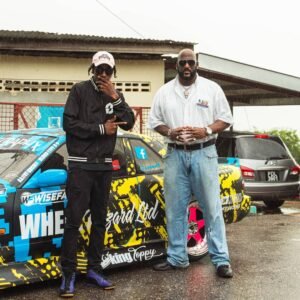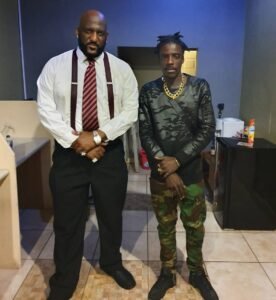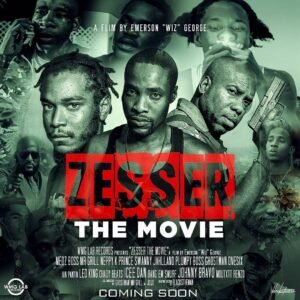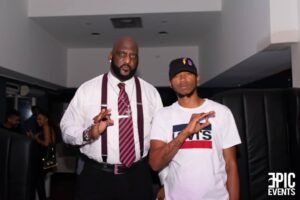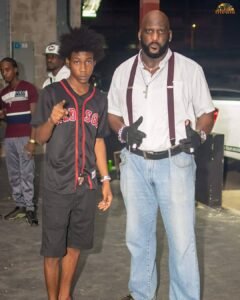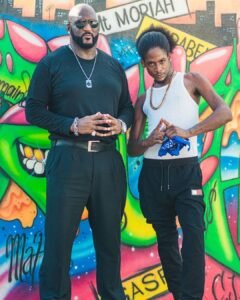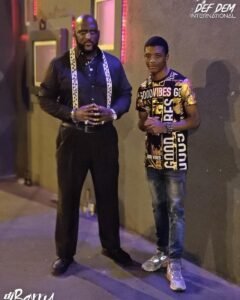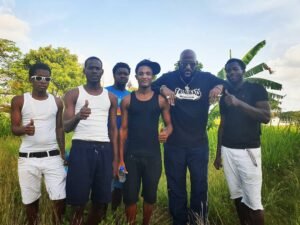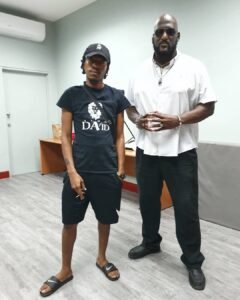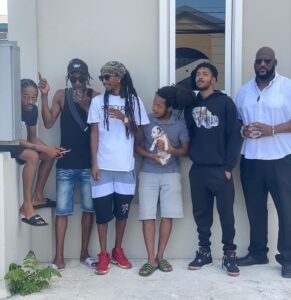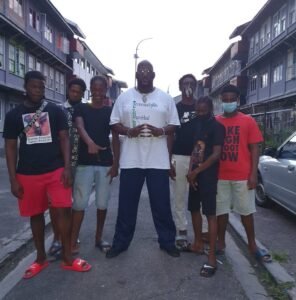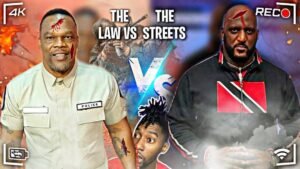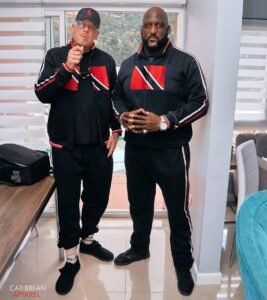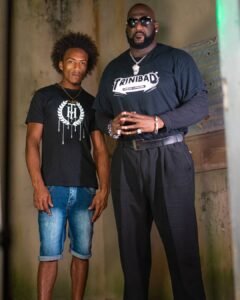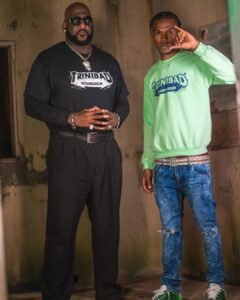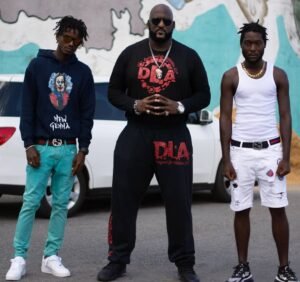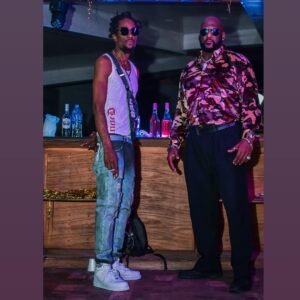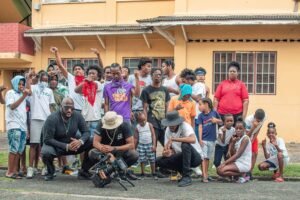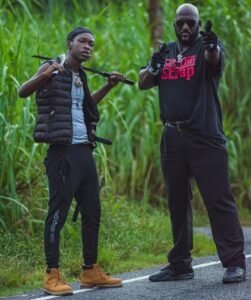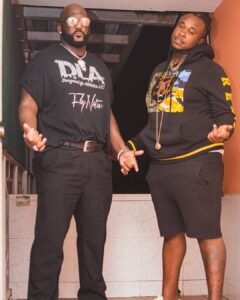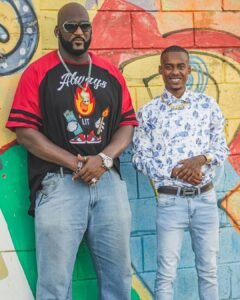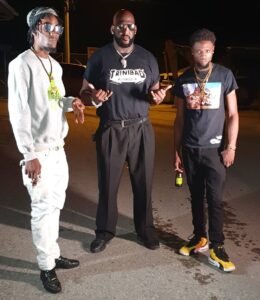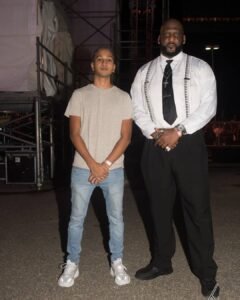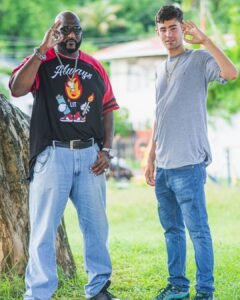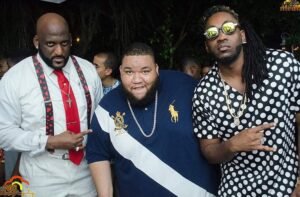 And because pictures can't do it justice! Here are some videos as well!
I Blessings! Big Up!