Gazanation Attention!!! Please stand and salute as we welcome to the floor a lady who was given her name personally from none other than, the one and only Mr. Adidja Palmer…the Worldboss..The Gaza King…Vybz Kartel *and the crowd goes wild* It is my honour and privilege to welcome to the stage…Gaza Gi *crowd goes wild again and I go crazy with them lol*
Mrs. Giselle Gellineau-Penrose aka Gaza Gi is an icon in the entertainment industry. Originally from the town of Diego Martin Mrs. Gi spent her earlier years in the west side before residing in Belmont (BIL) where she attended Providence High School in Port of Spain. Born on the 7th of July 1971 Mrs. Gi recalled her childhood stating she grew up in a very, very, very, very, very, very strict home and was an only child for 13 years before gaining her sister. Her parents and family were well known in the community to be upstanding citizens. Her mom's first cousin was former attorney general Selwyn Richardson and her grandfather was a known inspector in the Trinidad and Tobago Police Service. Let's just say, the bar was set pretty high when it came to character and demeanor.
Wanting to experience a life with more freedom, Gaza Gi left home at the age of 21 but ensured she took all of her values and training with her. One of the promises she made to herself was never to have a child out of wedlock and being a woman of her word, she kept that promise. Upon leaving home her father spoiled her a lot and didn't want her to pay any bills however her mother was against it as she wanted to teach her about responsibility.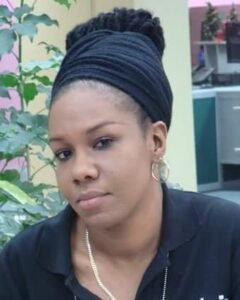 (Now between us, that's a perfect parent duo right?! You know…good cop, bad cop lol) As she grew older and encountered new life experiences Gaza Gi divulged that she understood her parent's attitude. She credits both parenting styles and her understanding of life for shaping her into the respectable and responsible young woman that she is today.
(We want to take this time to offer our deepest condolences to Gaza Gi on the passing of her incredible mom, who died in 2019, may she continue to rest in peace)
Now people, let me just advise you all that our lives could have been completely different (and a little less interesting) had she taken another route. Gaza Gi had her heart set on becoming a flight attendant as a child but her fear of the sea coupled with the requirement of learning to swim caused her not to pursue that career path. (Thank you sea for being so scary because we would be missing out! Lol). She now holds the esteemed portfolio of Artiste Manager and is also a part of the corporate world being employed with TSTT.
Now I know y'all are excited to hear about her connection to "Addi Di Teacher" and how the name came about so let's get into this!
In her early days in entertainment Gaza Gi worked with Roy Maraj as an artiste Liaison. Her tasks included interacting with artistes from the airport and ensuring they get to their hotel safely and that everything was ok.
She admitted that she never wanted to do promotions; her interest was in meeting with artistes and it's because of this passion that she had the opportunity to meet Mr. Palmer. ("AH…AWOOO")
Roy Maraj together with Tri Star Promotions and Joanne Thomas were well known for bringing in big artistes. They brought in the Worldboss for a licensing fete where she met and spoke to him at the hotel and immediately a connection was made. She went on to develop a friendship with the Worldboss himself that reached a stage where if he was asked to perform at a particular event, he would call her to confirm the reputation of the promoter and things along those lines. It was during these conversations that leader of Gazanation would give her the esteemed title "GAZA GI" as he always referred to her by this name (Yuh know Gi short for Giselle) She admitted at first she wasn't too fond of the name but after time it grew on her. (Hello!!! Jamaica has Sheba d gaza Diva and Trini has Gaza Gi!!! Hello!!).
Gaza Girlsss *Kartel voice*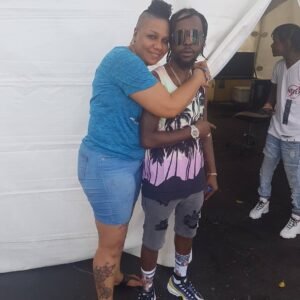 The empire team!
Due to Kartel's arrest their connection was lost, but of course, some things cannot be lost… like those awesome memories! I also want to add that she is close friends with Macka Diamond!! (Macka Bun Himmmmm…take man pon himmm! Dye dye, dye dye dye…I'm in a loving mood!! TTTUNNNEE!!)
Delving into her earlier days as a manager Gaza Gi was primarily involved with the Soca industry. Her first artiste was Denise "Saucy Waw" Belfon. Soon word got out about her work ethic and the rest was history. She is currently the manager for Blaxx and is also close friends with him, a friendship that is 20 years strong!!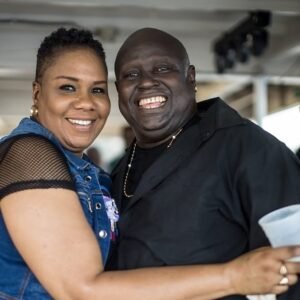 She also manages Tim Tim, Medz Boss, Plumpy, Icee Dan, Donepert, DJ Starboy Johnny and is also the booking agent for Teddyson John and Linkyfirst!!…(Allyuh rock and come een, we're in the presence of greatness!!)
---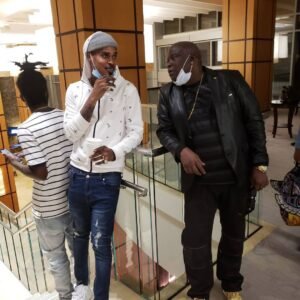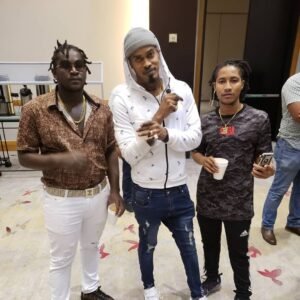 We asked if at any time when she considered taking up management full time and there was not. She always maintained a separation with her two roles and ensured that her management work did not affect her full time job. She even stated this knowledge is made known to her artistes and they are aware that she is unavailable between the hours of 8am-4pm. Being super inspired by her discipline and balance we asked about her time management with work especially during peak seasons in entertainment to which she shared her solution. Time off. So for all my part time entrepreneurs, choose your days wisely! Whilst we're on the topic of time off, let me take some time off from narrating and let y'all really get the answers as told by Gaza Gi herself in our fine Q&A style.
What has been/is the most challenging part of your job?
Dealing with different artistes and their personalities. As a manager your role is to guide them in the right direction however at the end of the day you work for the artise and not the other way around. For example there may be some challenges when you suggest something for them and they want to go a different way that you as a manager don't think is in their best interest.
What has been your experience with the Trinibad movement?
It's sad that the movement has a stigma, because of where the artistes are from they are stereotyped but for me it is awesome!! I am a manager but also a mother figure and everyone calls me manage. I am very serious with my artistes but I always receive a lot of respect from them.
How did you make that shift from Soca to Dancehall?
I met up Johnny Bravo at China Town in 2017. This was the first ever time I saw or heard of Prince Swanny, prior to this I didn't know who he was.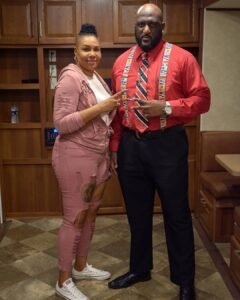 After seeing him perform I spoke to Kevin and told him I wanted to work with Swanny. The rest is history.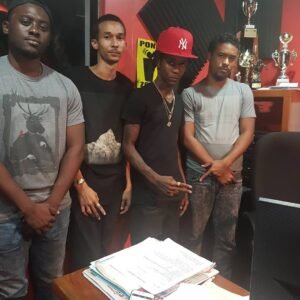 ---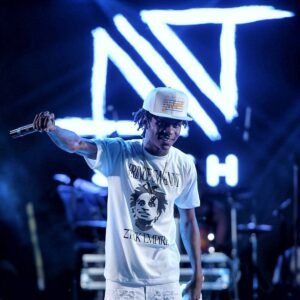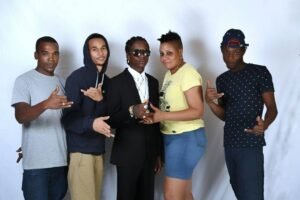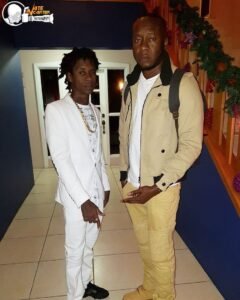 I received concern from others because of the shift and the appearance of Trinibad but I was never scared at all and now all other artises respect highly. However I am still learning and if I am unsure of something I can call someone to get their take on it. I also have a good reputation with artise management as well.
What has been the most rewarding part of your job?
I'm happy I got to work with Prince Swanny and helped him to get where he needs to go, because of him Trinibad music is getting recognition and now it has reached across the globe.
Another memorable moment was when I was approached by Anson Soverall and out of this came the collab with Medz Boss and Nailah Blackman.
In addition to this, I was influential in getting Dj. Starboy Johnny on Boom Champions.
(These are just some highlights thus far but of course, more greatness to come.)
Who/what is your biggest inspiration? Why?
My biggest inspiration is God, without him there wouldn't be me or anything that I contribute to. I call on him for any and everything.
What advice do you have for someone interested in doing your line of work?
You have to love it, make sacrifices and be committed. You also have to be a people's person because networking is important and so is being able to adapt. It can be rough at times but you have to love what you do for proper execution.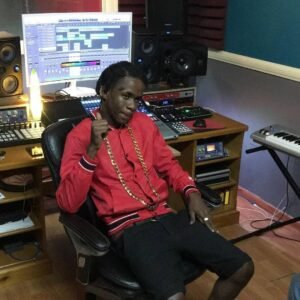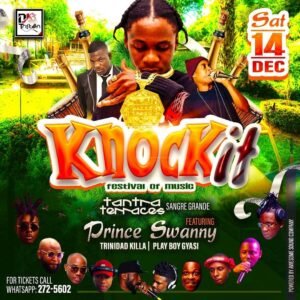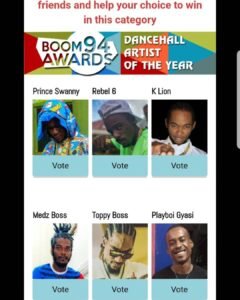 What is your favorite dancehall song?
I don't have a favourite song.
Who is your favourite dancehall artiste?
My favourite dancehall artistes are Kartel, Popcaan, Taurus Riley and Richie Spice.
What is your creative process?
I am an expert in customer service. When working with promoters etc. you have to know when the right time to negotiate is.  For instance when it comes to booking an artiste for a show, if you reach out to a promoter to ask for them to be on a show you are working with their price, however if they contact you to request an artiste to perform you are now able to negotiate a price.
What will success look like to you?
Success will be to reach on billboard charts and do collabs with the big guns. Success is not just the hype and getting lots of views on YouTube but rather when your music can be mainstream.
What do you think is required for Trinibad to make it mainstream globally?
It boils down to the content which is of utmost importance to reach to the next level. Gunman tune cannot make it mainstream. This type of music as well makes other opportunities harder to come by such as endorsements because of the content.
What are your hobbies?
I don't have too many hobbies. I like to exercise and travel. I am bestfriends with Fayanne and she used to carry me with her to Lady Chancellor hill to exercise, I liked doing that.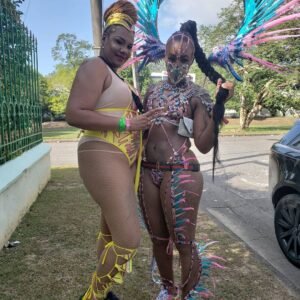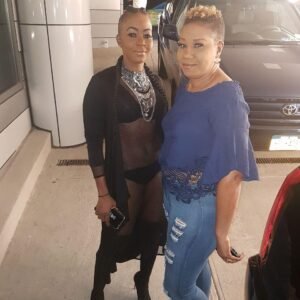 Some places I've travelled to are Barbados St. Vincent, St. Lucia and Grenada. In addition to this I went to Vancouver with Denise Belfon on a tour. Outside of music I always venture to the US and I've also visited England. Outside of music again my husband and I have been going to Panama consecutively for the past three years prior to the pandemic and of course we visit Jamaica regularly as that is my husband's birthplace.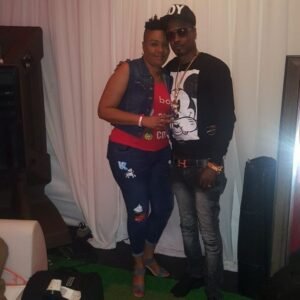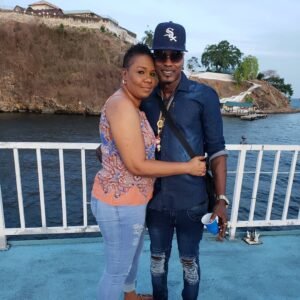 Besides this I work on trying to push the artistes to reach to the next level.
What is your favourite food?
Anything Italian!!! Sundays must have Sunday food and I'm trying to include more vegetables in my diet.  I am a West Indian but I don't like wild meat, pachoi, melongene, pigtail, duck, goat, black eye peas, lentil peas, split peas and provision. (Calm down yall!!!! I know you all are thinking she needs to get her Trini/Caribbean membership card revoked!!! Don't worry I already put in a request for that and marked it URRGEENTT lol seriously this is the longest list of dislikes I've ever seen if you or anyone you know surpasses this list….please let me know so we can put in a request for you all also haha)
Unfortunately all amazing fun things must come to an end much like this article 😔 but don't be too sad guys…we have some more mind blowing pics and videos for you guys!!
I want to say a special thank you to the fabulous Gaza Gi for this opportunity! I'm super grateful and honoured 🙏 wishing you continued success in every endeavour!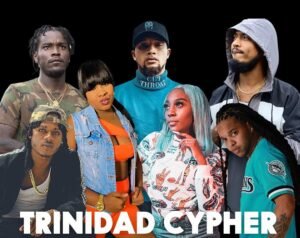 Birthday greetings
Blessings ❤🙏 Big Up 🙌