One of the reasons why we absolutely love music is because it's one of those rare things in this world that allows people from different races, cultures, beliefs and countries to unite.
Dancehall is one such genre of music that allows for true expression. Whilst we're on the topic of expression let's talk about an artiste that even though his name is the sound of a bell, it rings many bells when talking about dance expression. That artiste is none other than Ding Dong!
Over the years Ding Dong's dance music has encouraged us to get up and move move he gives his instructions and it's more than mind blowing to see other culture outside of Jamaica and the Caribbean embracing this awesome artiste.
Culture is one thing but a wedding ceremony!!!! Talk about vybbzzz!!! This shows us that despite all the negative crazy things going on in the world, we are surrounded by open minded persons who are breaking generational barriers. Persons who are loving and embracing other cultures and having a blast doing it!!
We're not experts at marriage here either but we know for sure this couple is off to a damn good start!!! They both know and enjoy quality as evident with their taste in music. We think they make a perfect match!!
Ding Dong…congratulations to you!! We know you're super proud! You've made your country proud and by extension the Caribbean.
Tune from tuneland!!!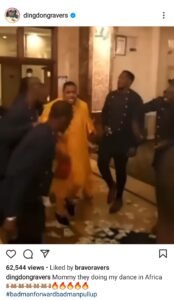 We look forward to this kind of awesome impact! Keep it coming!!!
Blessings ❤ 🙏 Big Up 🙌