First thing uno bold like me! Skillibeng said it and then he proved the hell out of that line when he announced crocodile teeth remix with the Queen Barbz herself, Trinidadian born Nicki Minaj!!! EEEAAZZYYYY
There was indeed a lot of controversy surrounded whether or not the information was true and did Skillibeng show the non believers as the remix dropped on the 14th of May 2021 and made waves as expected.  The Caribbean supported this full 100 and the it shows!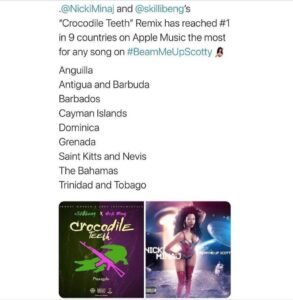 Prodigy means a young person with exceptional qualities or abilities and it's only fitting that Skillibeng's album is named that, his work and impact speaks for itself! Big Up the whole Eastsyde!! His songs just a blast like torpedo, his flow dem ah sore like magnito! Predicted and perfomed. This song made history surpassing a million views in 1 day!
The feedback from the ground were filled with mixed feelings about this collab with posts such as this surfacing on various social media platforms
Although this is hilarious, us the fans of both superb artistes are just glad that in both pics the crocodiles have teeth! anddd once it has crocodile teeth we believe everything will still get fck when skillibeng reach so be sure to take it EEAAZYYY!!! lol
Blessings! Big Up
check out the song here