When we think of resilience we think of "Vybz Kartel" aka "The Worldboss" aka"Addi D Teacher Palmer". Not many people can make a worldwide impact and remain relevant in the music as a free man, but here is Kartel, who has been locked away for years and years who never missed a beat yet!! which makes the title of his new song so real!
Released a month ago (15/05/2021) this song is already heading for a million views on youtube as it's currently at 844,660 views with 35 thousand likes at the time of this post!! and we're here for it all!. This is one of those if I say something I prove it moments.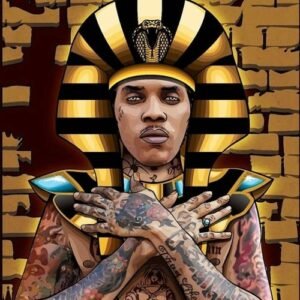 Personally, I LOVE songs such as this that really speak to the strength and belief you have to possess when fighting against poverty as well as all other negative elements around you on your road to success. My favourite statement will have to be "me born poor, mi did have ah one shoes and me neva bow then, how mi fi bow now" To me this translates as I know the power, greatness and confidence I have within myself and I am not going to settle for anything less than I deserve and that I'm worth. If this is the foundation, then this is the standards that will stay with you regardless of where you reach in life and really only makes you stronger in your belief over time.
We're definitely loving the artwork for this song…we see the king sitting on his thrown with a kind of Egyptian, style, kind of Pharaoh style dress and I could be wrong, but from the bit of information I've seen in the movies, at that time, I think their footware were more along the lines of sandals that used to strap up to the knees. But of course, we're dealing with the King of the Gaza Empire, and as we all know…pon d gaza, addi d teacher endorse clarks… and it seems as though the footware the teacher is wearing is in fact Clarks… ah awooh! What are your thoughts?
Another thing we love to admire about the teacher is the fact that when he releases a song,  you cannot even begin to guess what kind of vybz it will have. You can't predict if his voice is going to sound a particular way, or even the way he brings the words together. In this song he gives us a kind of rap, dancehall kind of vybz and we're here for it! But I think I've said enough already, so check it out below!
Blessings! Big Up!