One of the greatest things about this new generation of music is the impact it has been having on our talented and creative young persons across the country. The same impact that has brought us this upcoming artiste Rebelious music.
Representing our sister island Tobago, Rebelious made his debut into the music scenes in June of 2019 with the first song promoted on his instagram entitled Early Grave. Let's just say based on the title of the song, our guy did not come to play!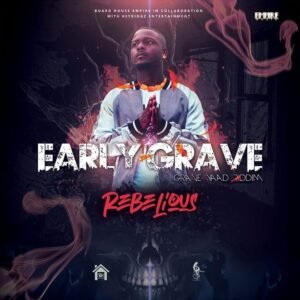 Following this we alerted with yet another song, this one called Better days and boy aren't we all praying for that right now!
Displaying the dedication to his music, Rebelious would go on to release another song in under two months. This 3rd song we were exposed to also appears to be his first collaboration. Here he features with an artiste by the name of Royal and together they brought us some motivation with their powerful song called greatest. This awesome song can really be used as a benchmark to judge your success in any venture. It's basically a musical vision board, letting you know of all the dreams and desires. Looking back after you've reached your desired level of success, you can replay this song and mentally tick off your accomplishments. Let's also take a moment to appreciate the work that went into creating a video for this song as well, we love to see it!
Check out the song below.
Not to be underestimated, Rebelious would go on to release a song entitled Murder and personally, it has to be on of my favourite songs from him! It's definitely car playlist worthy, but what made me fall in love with it, is his voice and the way he pronounced the word "Berger" I've spent several years saying that word a different way and from the time I heard it in this song, it automatically became my new favourite way to say Berger lol so big up yourself Rebelious I'm now creating a boogie accent dictionary starting with this word haha. 🙂 lol
But his voice and English weren't the only things that stood out to us about the song, quite the contrary, we also loved the creativity that went into the video, the quality of the video, the beats, lyrics and overall vybz! Did you say you want a preview? Well ok! SAY NO MORRREE!!! We got you love! check it ouuut
Not stopping there, we heard Bad Like We and up to now we're not sure if he ment that lyrically, with the change in voice and style, or overall badness because all of it was baaaddddd!!!! *insert several fire emojis here*
And whilst we already know how impressed you are with the ambition of this young artiste, we're not done with the accomplishments as yet!.
Show some support for his most recent release. This song is entitled Wah dem ah try and just like you Rebelious…we really would like to know in truth…check it out here!
That's all for now on this particular article, but we have so much more on Rebelious…check out behind the music and of course if you need to contact him directly check out our directory.
Blessings ❤ Big Up 🙌