Gazanation keeps bringing the heat! At this point we believe it's possible that the worldboss's musical passion has passed on to his children through DNA as his sons are holding the mantle in a big way!
The Teacher endorsed Clarks over ten years ago and I strongly believe part of the reason it is still relevant to this date is because of that endorsement! I remember there was a time everyone wanted a clarks! Gazanation supported in full force! In this song we have yet another endorsement from the Boss himself and his son Wolrdboss Jr. and we see where there's now a new kind of shoes being enforced and that is the airforce!
A preview of this song was released by Dancehall Royalty's instagram page on the 30th of April 2021 with the official audio released on youtube on the 9th of March 2021. For those unsure what this Dancehall Royalty page is about, well it's about the dancehall Music Legend, Vybz Kartel's third album which dropped on the 8th of January 2021 making it the Teacher's 3rd album in a calendar year!! When he said he cannot lose he ment it!
This album and cover art as the name suggests shows the Royal family of the industry and displays the Teacher, Bosslady Shorty and his three sons dressed like the royal family that they are! The album playlist features his sons Likkle Addi and Likkle Vybz as well as his cousin Sikka Rhymes and Renee Six-Thirty.  As expected on the date of release, the album debut at #1 on the itunes Reggae Charts  and is available on Spotify, Audiomack,  Apple Music, Google Play Music, Tidal and Pandora. But that's enough about the album! Back to this song!
The initial preview showed what has to be one of the sickest Air Force shoes with a combination of our favourite cartoon characters Rick and Morty, Mickey Mouse, Powerpuff girls, Goku, Adventure time's  and even had a personalized name. I don't know about y'all but since I've seen this I really want the exact same pair with "Dissecting Dancehall" on either side! Check it out below and tell me what you think!
It's evident that Worldboss Jr. is no stranger to singing and/or performing as we see he's been involved with the music from a very young age. In the video he shows no fear, no hesitation when singing and he gives us the vvyybbzzz…how that so bad??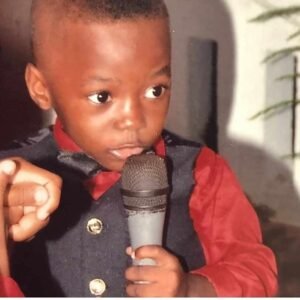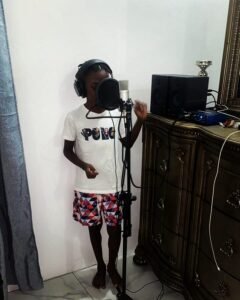 With the official video released less than a month ago it has already amassed a viewership of over 450,000 so we know the people are loving it! and We are loving the promotion that went into it! Ladies and Gentlemen please take a second to look at this amazing family representation! The gaza family bond is definitely one to be admired.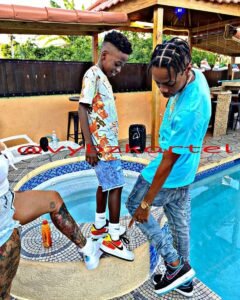 The video features an animated Kartel of course hitting us with his usual versatility and all I want to know really and truly is how that so bad??????? Check out the preview below!
I'm convinced! I'm ready to rock an airforce and represent with the gazanation as done previously but I've kept you in suspense for long enough so check out the full song here! How that so badd???
And just like all good things, we've come to the end of this article! Be sure to check out the album and other streaming platforms for this and other great music from the Gaza family.
Blessings! Big Up!