Our condolences goes out to G City Mobay Entertainment on the passing of the adorable young champ.
The page posted about the passing of this sweet baby on the 18th of January with the following caption.

This is such a sad and devastating time! Scores of people reached out in the comments to over their condolences including Trinidadian singer Frosty Sixx and Jamaican singer Malie Donn Muzik who are avid supporters of the "Six" movement of artistes which encompasses artistes such as Squash Six Boss, Chronic Law, Bobby Six, Attomatic Records and the late great Rebel Sixx.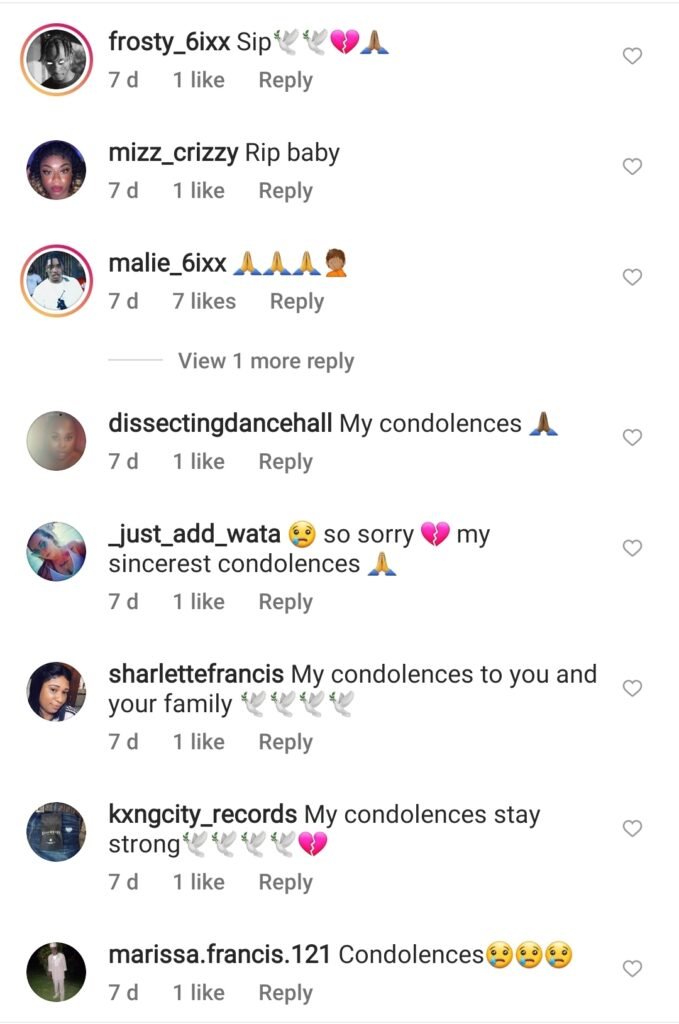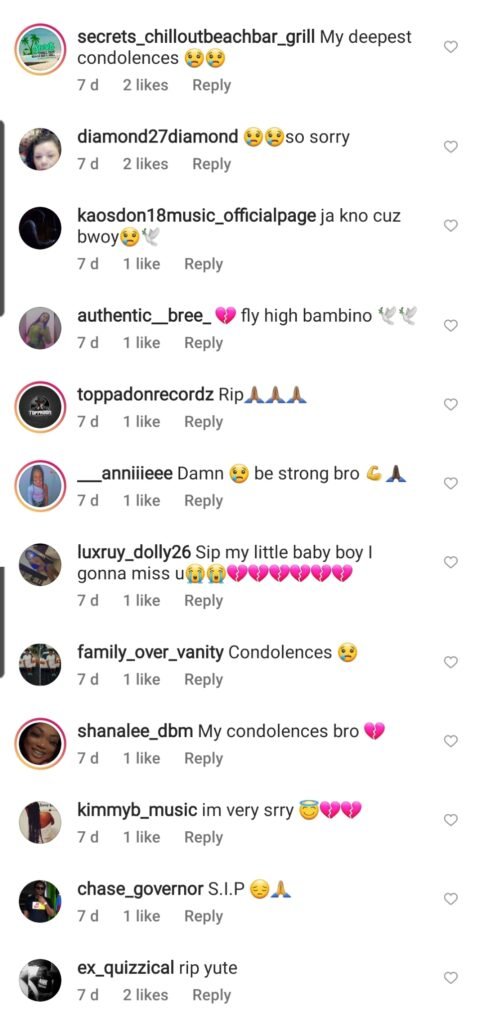 We leave you all with an amazing poem and hope that it can offer some comfort during this difficult time!
Precious Boy
I'd like to offer my condolences
With a poem I'd like to share.
To all those suffering in this difficult time,
I say a little prayer.
It is so hard for everyone
To think that you're not here,
Your happy face, your gorgeous eyes,
Your beautiful smile so dear.
Little Angel, precious boy,
Please spread your wings and fly.
God picked you as his new Angel
Up there in the sky.
It's times like this we question just
How could He let this be?
But He has a plan for each of us.
Sometimes it's just hard to see.
Who knows in heaven, there might've been
Little angels in need
Of a special friend just like you,
Someone to play with or to lead.
My heart goes out to your family,
Especially your mum and dad.
I can't imagine how they must feel.
It is just so terribly sad.
But rest assured they'll think of you,
Each day through and through,
And they will keep you close to their heart
In all they say and do.
So I encourage them to keep their faith
In this time that they grieve
To have courage, strength and be brave,
To continue to believe.
To see the signs you'll send to them,
To let them know you're near,
To keep your love alive forever
And bring them a little cheer.
So whenever they see a beautiful rainbow
High up in the sky
Or in the garden when they see
A graceful butterfly flutter by,
They will think of you, little one,
And you will all never be apart,
As you will always have a place
Nestled deep within their heart.
We'll look to the sky on a starry night
And search for the brightest star,
As we will know that will be you
Shining down from afar.
God bless you, our beautiful boy.
Fly high up above.
May you always keep on smiling,
And look after all those you love.
Little Angel, precious boy,
We all just want you to know
That you'll be safe in God's hands now
And be missed forever so.
Source: https://www.familyfriendpoems.com/poem/precious-boy-2
We hope that you all are granted divine peace to overcome this terrible loss!
Blessings 🙌🏾 Big Up ❤